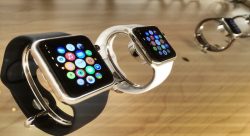 Are you thinking about enabling Handoff on an Apple Watch? Are you wondering what it is and how it can be enabled? Yes, you have come to the right place. Continue reading the details below and you will have a fair idea as to how you need to enable Handoff on an Apple Watch.
What is an Apple Watch?
An Apple Watch is a smart watch. It is developed by Apple Inc., and works in an iOS operating system. Apple watches include fitness tracking and health care capabilities.
What is a Handoff?
Apple Watch and iPhone providers have packed their devices with loads of features to make it an exciting experience for its users. A new feature has been developed integrating the two devices. That is what Handoff is all about. Handoff is just one among many other features on Apple Watch and Apple iPhone that enables you to start a task on one device and complete it on another.
With Handoff on an Apple Watch, you can transfer one active call to another device in the network. It also includes transferring a data session from one device to another device in the network. The Handoff features allows MACs, iPhone and iPads to work together closely. Many small organizations take advantage of a handoff to carry out group meetings easily. A Handoff on an Apple Watch works when all devices are using the same Wi-Fi network. It also works well with OS X Yosemite.
Handoffs can be divided into two types:
Hard Handoff: In this type of Handoff, there will be a connection break during the process of transfer. Chances of a person finding the break in a connection are very small.
Soft Handoff: In a Soft Handoff, there won't be any connection break during the process of transfer. Compared to a Hard Handoff, a Soft Handoff is more costly.
It is quite easy to enable a Handoff on an Apple watch. Apple watch does not have the provision to type, so, if you have received an interesting email and want to send a reply, then by enabling Handoff to your Apple iPhone, you can easily send the reply.
To enable Handoff on an Apple watch, the steps to be followed are:
Go to your iPhone and enable the Apple Watch Application.
Now go to the bottom and tap "My Watch."
Now you will be able to see an option called "General." Tap on it.
Tap again to enable the Handoff option.
In your Apple Watch, when a new message is viewed, you will see that a new application icon is displayed at the lowest leftmost corner in the iPhone you are using. This is the same application which is presently in active status in your Apple Watch. When you swipe the app icon, you will have access to the exact page that you were viewing and left open on your Apple Watch.
Conclusion
If you own an Apple Watch, then you can enable Handoff on an Apple Watch and complete the unfinished reading from iPhone in Apple Watch. It is a great feature which will be useful for all types of users. By following the steps given above, you can easily enable Handoff on an Apple Watch.
Related Posts