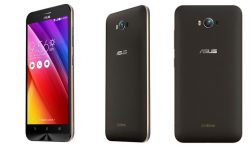 A custom recovery is most often installed for its ability to root a device by installing the SuperSU application. It's also handy for those times when you want to take complete backups without having to install additional applications like J Rummy's ROM Toolbox.
On the odd occasion, things can be reversed, and you can need to root the smartphone or tablet before you can install the custom recovery. To get that done, you will need a rooting method that doesn't require a new recovery which is rare, but it is possible. The Asus Zenfone Max is one of those smartphones, so owners of this device are in store for something a bit different, but they can leave here knowing they've done something that not many other have — and that's something you can be proud of later.
These are the instructions to install TWRP Recovery on Asus Zenfone Max smartphones running any firmware:
REQUIREMENTS
You must have rooted the Asus Zenfone Max smartphone before you can follow this guide and install a custom recovery on the device. The reason being you need to install the Rashr application, which is ideal for installing a recovery on some devices, but it always need root access to run.
BEFORE WE BEGIN
Note that installing a custom recovery such as TWRP Recovery will always void the warranty. You can get that warranty working again by following our guide to unroot the Asus Zenfone Max smartphone whenever you are ready to return to the stock ROM you were initially running before you started customizing your device.
Make sure you enable the Unknown Sources option on your Zenfone if you are installing apps from outside the Google Play Store by tapping on the Settings > Security > Device Administration > Unknown Sources.
HOW TO INSTALL TWRP RECOVERY ON ASUS ZENFONE MAX
Head over to the Google Play Store and download the Rashr application.
Download the TWRP Recovery from here and extract the file to the desktop of the computer.
Copy the Z010_3.0.0t1.img (the TWRP) over to the internal storage SD card.
Tap on the Rashr application from the app drawer, so the app opens.
Tap on the "Recovery from storage" option.
Scroll down the list and click on the Z010_3.0.0t1.img file name.
Wait until the TWRP is flashed and then first-time boot directly to recovery mode after you apply a standard reboot to the device.
In conclusion, that's all you need to install TWRP Recovery on Asus Zenfone Max smartphones using the TWRP image file and the Rashr application from the Google Play Store. Anyone regretting the decision to install a new recovery can always return to the stock recovery on the Zenfone Max at a later date.
Related Posts