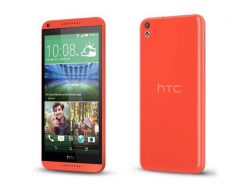 Sometimes people want to install a custom recovery so they can upload the SuperSU application and root the device that way. It sounds simple enough, but it can sometimes be tricky because there are more than a few versions of the SuperSU application available. Other times people can root a device by using a one-click rooting tool like KingRoot and they want to install a custom recovery after rooting so they can then check out some custom ROMs that are available.
Here is everything you need to install TWRP Recovery on HTC Desire 816 smartphones so you can either root the device, install a custom ROM or star taking complete backups without having to use ADB and Fastboot from a computer:
REQUIREMENTS
The steps in this guide are intended for the HTC Desire 816 smartphone. It's true you can use the same TWRP Manager application for some other device but not all devices. Don't automatically assume it's going to work for any other device you have. You can catch the full list of devices when you download the app and install it on your HTC Desire 816 smartphone.
BEFORE WE BEGIN
You should backup your data on the HTC Desire 816 smartphone before using this guide. Those of you with the TWRP Manager app installed can swipe from left to right when you have the app open and choose the backup button from the menu. The backup directly from the TWRP Manager app lets users backup the boot, cache, data, recovery, data, system, enable compression, as well as generate MD5.
HOW TO INSTALL TWRP RECOVERY ON HTC DESIRE 816
Log in to your Google Play Store account and browse for the "TWRP Manager" application.
Download the TWRP Manager and open it from your app drawers once the download is complete.
Tap on the "Device Name" and browse the list for your device.
Highlight the HTC Desire 816 smartphone from the list.
Tap on the "Recovery Version to Install" and choose the most recent versions if you are planning on installing one of the latest versions of custom ROM.
Tap on the "Install Recovery" button and then wait for the custom recovery to be installed on your HTC Desire 816 smartphone.
In conclusion, that's how to install TWRP Recovery on HTC Desire 816 smartphones using the TWRP Manager app from the Google Play Store. Installing the custom recovery this way will give you all the same features you had when installing a custom recovery with ADB or any other way you may have installed a recovery in the past. The only difference is that you have now added another application to your device which is sometimes unfavorable if you were installing a custom recovery and rooting for the sake of getting a custom ROM that is fully debloated. Nevertheless, the TRWP Manager app won't bloat your device much at all, so it shouldn't matter.
Related Posts