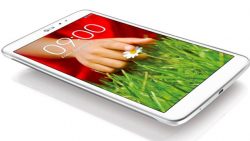 Most people who use the Android operating systems to do to use the basic everyday tasks like making phone calls, sending text messages and browsing the web with their favorite web browser application. With this kind of everyday use, the Android operating system rarely falters, making a trip to recovery mode seem pointless. Still, it's good that everyone knows there is a stock recovery partition there available, and it can be booted any time you need to fix your device.
Android developers and enthusiasts might want to replace that stock recovery that comes with your LG G Pad 8.3 device with a different version we call a custom recovery. A custom recovery offers a way in which we can take complete backups using the NANDroid backup feature, plus a way to upload custom ROMs and kernels through zip files — both features you will not find in any stock recovery partition.
HOW TO INSTALL TWRP RECOVERY ON LG G PAD 8.3
Turn on the LG G Pad and navigate to the Google Play Store application.
Browse for the TWRP Manager application and agree to install the same.
Head over to your G Pad's app drawer and tap on the TWRP Manager application icon.
Tap on the devices tab and scroll down the device list to highlight your G Pad 8.3 device.
Choose the version of recovery you want to install, making sure you choose one of the later versions if you want to install a recent custom ROM that is based on new firmware.
Tap on the Install option and wait for your recovery partition to finish installing.
Close the TWRP Manager application and your device will be ready to boot to the new custom recovery partition when you are ready.
In conclusion, that's how to install TWRP Recovery on LG G Pad 8.3 using the TWRP Manager application. You will need to turn off your G Pad and then hold the hardware button combination for recovery mode to get it to boot into the new custom recovery you just installed. The hardware button combination won't work if your device is already turned on.
Furthermore, anyone with the G Pad who wants to root the device can then head over to the Google Play Store and install the Quick Boot application. Just like with all the modes it has available, the Quick Boot application can boot your G Pad to the recovery mode with the tap of a button.
Anyone wanting to root the LG G Pad 8.3 can do so now by using the custom recovery you installed. Just download the SuperSU application to your desktop and transfer it over to the internal storage SD card of your G Pad device. Now boot it up in recovery mode and install the SuperSU from the menu. You might want to research what version of SuperSU works best for that before you go ahead and install it on your device. SuperSU doesn't change your operating system in any way. It just grants root access to the apps when requested.
Related Posts