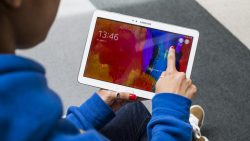 A custom recovery is most commonly installed so people can swap a stock ROM for a new one. These new ROMs that we can swap are called custom ROMs and are usually developed by third-party developers doing it for fun. About the only exception to that is the folks from the CyanogenMod team who are now part of an established company and developing ROMs as a job. You can even find those CyanogenMod ROMs coming stock on some devices like the OnePlus or the newer WileyFox devices out of the United Kingdom.
As far as custom recoveries go, the pick of the bunch is TWRP Recovery. It used to be ClockworkMod Recovery, but like most things made by Koushik Dutta, it's now considered outdated. Most custom recoveries will give you the necessary features to install a new ROM, so it doesn't always matter what recovery you get on your device. That said, if you could pick one it would be TWRP, and that's the same recovery that is available to install on your Samsung Galaxy Tab Pro 10.1 WiFi device.
HOW TO INSTALL TWRP RECOVERY ON SAMSUNG GALAXY TAB PRO 10.1 WIFI
Turn on your Galaxy Tab Pro device
Open the Google Play Store from your collection of Google applications.
Using the search bar, type the words 'TWRP Manager' and then agree to install the app.
Wait a few minutes for the application to complete its download and installation and then agree to open the app when prompted on the display. Alternatively, you can leave the Google Play Store and head over to your app drawer to find the new app available.
Once inside the TWRP Manager application, select your Samsung Galaxy Tab Pro 10.1 WiFi device from the menu, making sure to choose it and not any other device.
Under where it says install, choose the version of TWRP you wish to install.
Tap the option to install your new custom recovery image on the Galaxy Tab Pro device when you are ready.
In conclusion, that's how to install TWRP Recovery on Samsung Galaxy Tab Pro 10.1 devices by using the TWRP Manager application and your device. The TWRP Manager application offers a simple solution to getting the custom recovery installed on your smartphone or tablet and it does it all without the need of using a computer which is always a nice bonus.
Anyone looking to gain access to that root file system for installing more apps like the Titanium Backup application can do so by installing the SuperSU app by Chainfire from the TWRP menu. Your custom recovery is great for a few reasons, and one of those is the simple installation of Chainfire's SuperSU which can grant your device the rooting permissions in just a few seconds. When done right, the SuperSU will be available from your Galaxy Tab's app drawer where you can adjust the settings and manage the applications existing on your device.
Related Posts