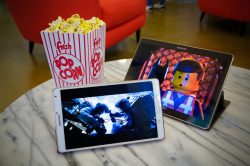 When paired with root access a custom recovery will allow Samsung Galaxy Tab Pro owners to install a custom ROM. There are a few custom recoveries that can help make that happen, but the TWRP Recovery is the most popular version.
TWRP isn't popular because it can do anything extra for your device, but more rather for its touch-based user interface for you to make your selections. That's largely the reason why it has become the most successful recovery to use.
Not everyone is a fan of a custom recovery. We know Chainfire is slowly deciding against running a custom recovery on his device for reasons unbeknownst to us. However, those people wanting a custom ROM running on the Samsung Galaxy Tab Pro device don't have much choice. There are other ways you can take an NANDroid Backup, though, so don't install a custom recovery just for the sake of making your complete backups without having to use ADB commands. An application like J Rummy's ROM Toolbox can offer you the NANDroid backup too, as can plenty of other apps.
HOW TO INSTALL TWRP RECOVERY ON SAMSUNG GALAXY TAB PRO 8.4 WIFI
Open the Google Play Store application on your Galaxy Tab device and browse for the TWRP Manager application.
Confirm you wish to install the TWRP Manager app and wait for the download to complete.
Head over to your app drawer where you generally find apps that have just finished downloading and tap on the TWRP Manager.
Once your new app opens, select your device from the drop-down list.
Choose the version of custom recovery you prefer to install if it gives you options from the installation menu.
Tap on the install button and wait until your TWRP is installed on the Samsung Galaxy Tab Pro 8.4 WiFi device.
In conclusion, that's how to install the TWRP Recovery custom recovery on the Samsung Galaxy Tab Pro 8.4 WiFi using the TWRP Manager application from the Google Play Store. It's not always we can use this app, so you should be thankful it was available for your device. There is no harm in keeping the manager application on your device after you finish the guide, but you can uninstall the app if you prefer going for that maximum battery life and purest of stock Android experiences.
Furthermore, your new found custom recovery is also going to double as an excellent way to root your device if you ever want to start installing root applications like the Titanium Backup app. Rooting can cause a few technical problems to creep into your operating system, but it also comes with tremendous upside. Some people root because there are not any applications out there that can do what they can need without it. Many of those reasons can be completely above board and legal too, like installing the Titanium Backup app. You will not find an app out there that can backup your device with the ease of Titanium. It's also great if you want to freeze or completely uninstall system apps.
Related Posts