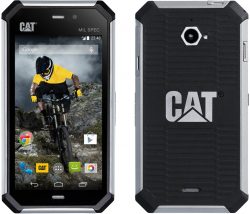 Past Cat smartphones have ended up on quite a few people's worst looking smartphone of all time lists, but the Cat S50 is more bearable than its predecessors. If not much else, it's a unique looking phone that a niche market should find appealing for its ability to be durable in outdoor conditions. You can enhance the Cat S50 smartphone even more with root access and unchain the internal system so that it is running without any restrictions or limitations in place by the Android developers. We can this having a rooted Cat S50 smartphone, and it is giving to allow you to install many more apps from places online like the Google Play Store.
Here is everything you need to root Cat S50 smartphones so you can start using the smartphone with an open operating system for the first time since opening the handset out of the packaging.
HOW TO ROOT CAT S50 RUNNING ON THE ANDROID 4.4 KITKAT SOFTWARE UPDATES BY USING THE KINGROOT UNIVERSAL ONE-CLICK ROOTING APPLICATION
Check that you Cat smartphone does, in fact, have the Unknown Sources option enabled first by navigating to the Menu > Settings > Security > Unknown Sources.
From the web browser app, you would usually use on the smartphone, download and install the KingRoot application.
Tap to open the KingRoot app when you can see it there available from your device's app drawer.
Tap on the Root button that can be found on the front page of the app. (The exact wording of the button that roots your smartphone can change depending on the version of the KingRoot app you are looking at on your screen, but there is only one button there, so you can't go wrong).
Wait for the progress bar to pop up and then reach 100% before you touch any buttons.
As soon as you can see the success message on the display of the smartphone, reboot the phone.
In conclusion, that is all you need to root Car S50 smartphones when you have them running on the Android 4.4 KitKat software updates by using the world's most popular one-click rooting application, namely KingRoot. The KingRoot app does not need to have the bootloader unlocked before you can use it and nor does it unlock the bootloader for you when you are using it. Therefore, anyone wanting to install a custom recovery on the smartphone will likely need to unlock the bootloader before that is possible. There isn't much use installing a custom recovery on this phone due to there being a lack of ROMs available. And the full backups can be taken by using root apps and not the NANDroid option that would be available from the custom recovery menu, so do not stress if you are unsure how to unlock the bootloader.
Related Posts