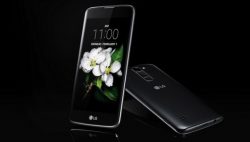 Nothing proves harder to root than a phone coming from the LG manufacturer. Unless you have a subconscious bias tendency to love everything that comes your way from the Life's Good company, I believe it is hard to argue that everything associated with an LG device and customizing it tends to prove one of the more challenging challenges out there. Whether you have to use the strangely named buttons associated with the flash tool, or root using an incredibly detailed guide and/or an extremely lengthy step-by-step guide that requires to the first downgrade to another stock firmware and then root using another extremely long guide again, LG devices are usually not a whole lot of fun to root.
The good news is there is a "however" to this story, and the new LG K7 smartphone can be rooted by using one of the easiest methods every known to humankind to root which is via the KingRoot one-click rooting application. One you have the K7 smartphone rooted, you can begin to install your root apps from the Google Play Store and other sources on the World Wide Web. One of the apps we recommend you check out is the Root App Deleter. Most of our smartphones come with a large number of system apps that we cannot delete by default because they are locked in because our manufacturers or phone carrier networks would like for us to use the device with them on because it could earn them more money. However, if you are somebody who will not use any of these apps and cannot find any way to put them to good use, they will do nothing but take away from your performance and your battery life. There is a way in which we can remove these unwanted system apps, and it requires root access. Once you have rooted your smartphone, you can choose from a few apps to take off your system apps — one of them is the Root App Deleter.
HOW TO ROOT LG K7 WITHOUT A PC
Turn on your K7's Unknown Sources so you can start installing applications from outside the Google Play Store by tapping on the Settings > Security > Device Administration > Unknown Sources.
Download and install the KingRoot APK file directly from the web browser app on your phone and then open it up from your app drawer once it is done.
Tap on the Root button you will see once you enter the app.
Give it a few minutes to ping back the correct method to root and then for the progress bar to reach the 100% mark.
Exit the KingRoot application once you can see the success message pop up on your screen.
Reboot the LG K7 smartphone after you exit the app.
In conclusion, that is how to root LG K7 smartphones without having to use a PC. As soon as your K7 smartphone reboots you will be able to head over to your traditional Google Play Store app and install the root checker app if you do not have it waiting on your phone already. From there feel free to head back to the Google Play Store once your rooting is verified and start installing your first root app. You can find other trusted apps from outside the Google Play Store too. The ROM Toolbox app being one of the most reliable options.
Related Posts