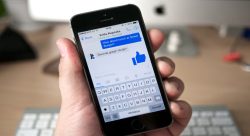 Most of you would prefer to have an option to save pictures automatically from Facebook Messenger, as it saves your time and helps avoid the problem of missing photos that are shared on messenger. The tips discussed below will help you to set your iPhone or iPad to automatically save pictures from Facebook Messenger.
What is Facebook Messenger?
Facebook Messenger is an instant application for communicating with your friends and family members that are in your contact list. It helps both text, as well as voice communication. Even if you have a web camera installed, you cannot do video communication through Facebook Messenger. Facebook, at present, does not support video calls, video messaging or video chat. You can use Facebook Messenger both on the web, as well as in your Smartphone. Millions of users are using this facility to communicate with dear ones as it a free-to-use tool. Facebook Messenger is build using the MQTT (Message Queuing Telemetry Transport) protocol. Even though Facebook Messenger lacks many features that are available in other messengers like Skype, Facebook is putting in a lot of effort to revamp the messenger by adding features one by one. Facebook Messenger is also integrated with a location mapping tool. You can save pictures from Facebook Messenger, but it can be time consuming.
Tips to Automatically Save Pictures From Facebook Messenger Using iPhone or iPad
Facebook Messenger is a popular app used by millions of people all over the world. Through this messenger it is not only easy to communicate with your friends and family but you can also share your photos with them. To save these photos, until recently, the users had to manually go there and save it to their system. Now, by following the tips given below, you can set it to automatically save pictures from Facebook Messenger.
Open you iPhone or iPad.
Connect to your Facebook account using your login id and password.
Open the Facebook Messenger and then go to the Settings icon. (gear icon)
Now, scroll down till you find the option "Save photos to your camera roll" and then flip the switch to ON mode.
That's it. Now, Messenger is set to automatically save pictures from Facebook Messenger. You can confirm if this feature is working correctly by asking your friends to send a few pictures through the Facebook Messenger. Once you receive the pictures through Facebook Messenger, go to your camera roll and check if the pictures are saved.
Drawback of Setting to Automatically Save Pictures from Facebook Messenger
The only drawback of setting the option to automatically save pictures from Facebook Messenger is that it will save all the photos sent by your contacts through the Facebook Messenger. You cannot filter or set the option to choose to save pictures from only a few friends. Facebook has not enabled such an option yet, but we except them to enable the selective filtering option in future. But, remember that when you set the option to automatically save pictures from Facebook messenger, your Smartphone's memory will be filled quickly with all the photos getting saved and it is a good idea to upload from your phone to another medium quickly.
Related Posts