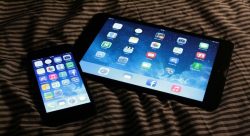 Do you want to disable Touch ID on your iPhone or your iPad? Touch ID on iPhone and iPad is an excellent feature that is liked by many people all over the world. Even though there are many people who prefer using the Touch ID for authentication, there are a few who wish to disabled it. It is not a complicated process to disable Touch ID on either device. Just follow the instructions given below to disable Touch ID on iPhone or iPad.
What is Touch ID?
Touch ID is the fingerprint authentication process used in Apple's iPhone and iPad. This excellent feature is available from the iPhone 5s series. If the phone recognizes your finger, then by pressing the Home button on your iPhone or iPad, it will unlock the screen.
How Touch ID Works in your iPhone or iPad?
To activate this feature in your iPhone or iPad:
You have to go to Settings and from there choose the General option.
Next, select the option "Passcode and Fingerprint."
Now, by turning Passcode on feature on your phone, you should enter a four digit passcode.
Then you must select the Fingerprint option and select the Add Fingerprint option.
Next, you have to place the finger that you wish to use for unlocking the screen of your device.
When your phone starts to vibrate, take off your finger. You must continue repeating the steps 5 and 6 till the grey color fingerprint turns completely red.
You should now add grip, repeat the process given in steps 5 and 6 till you get a message "Success."
Now, the passcode unlock option will be enabled in your iPhone. You need to turn on Touch ID to unlock iTunes and App Stores.
Steps to Disable Touch ID for Unlocking and Purchase
Before you plan to disable Touch ID for unlocking and purchase, you should make sure you have activated the passcode for protecting your device from misuse.
First step is to go to Settings in your device.
Now go to the option "Touch ID and Passcode."
Now under the Touch ID section, you have to switch the button to turn off the option. If you wish to turn the Touch ID off for all the apps, then, you can do that.
Now you have to ensure that you have enabled the passcode for unlocking your screen.
Why people want to disable Touch ID on iPhone and iPad
Many users feel that Touch ID is unreliable. If you feel this is the case, it is better to create two or more fingerprints to unlock the screen. Especially during rainy season, it is better to have additional fingerprints to unlock your phone.
Conclusion
The Touch ID is a great feature that is present in the iPhone or iPad to unlock your screen. It is one of the best ways to protect your phone from unauthorized usage. If any user wants to disable Touch ID on iPhone and iPad, you can easily disable it by following the steps given above.
Related Posts