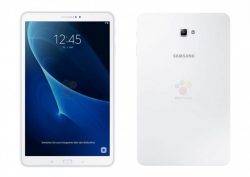 Rooting the Android OS that is running on the Samsung Galaxy Tab A SM-T580 is becoming the root user and that puts you in control of what is installed and uninstalled on the device. It is the only way to have full privileged control and be the person who is making the calls about what stays and what goes on the Android that is showing on the screen.
Here is everything one needs to root Samsung Galaxy Tab A SM-T580 tablets running on the Android 6.0.1 Marshmallow software updates, so you get to decide what apps are running on your device:
REQUIREMENTS
BEFORE WE BEGIN
We recommend using a computer to transfer the SuperSU package like we demonstrate how to do during the guide below. It does not matter what operating system you have running on the computer; we are only using the computer for the file transfer and nothing more. No applications or tools are required.
HOW TO ROOT SAMSUNG GALAXY TAB A SM-T580 RUNNING ON ANDROID 6.0.1 MARSHMALLOW SOFTWARE UPDATES
Download the SuperSU by Chainfire directly to the computer.
Connect the Samsung Galaxy Tab A SM-T580 tablet to the computer with the USB cable.
Open the Downloads folder—where your SuperSU file has ended up by default—and copy the SuperSU to the internal SD card storage folder that is on the computer for the tablet (it always appears when you connect it to the computer with the USB cable.
Unplug the Galaxy Tab A from the computer once you have the SuperSU zip file on the SD card.
Turn it off and then reboot the Samsung Galaxy Tab A into the Recovery Mode and since you have swapped the stock recovery for a custom version you should see the custom one booting up on the display.
Take the NANDroid backup by tapping on the Backup button from the Recovery menu if you have not yet backed up the data or skip this step if you already have.
Tap on the Install button from the main Recovery menu and browse through to the internal storage space and select the SUperSU zip file that you transferred there earlier when you were using the computer.
Follow the rest of the on-screen guidelines to install the SuperSU package which is swiping on the display if you are using the TWRP Recovery.
Choose the reboot option and then the system option from the recovery screen once the flashing is complete and the Samsung Galaxy Tab A gets back into the normal mode.
In conclusion, that is how to root Samsung Galaxy Tab A SM-T580 running on the Android 6.0.1 Marshmallow software updates by flashing a version of Chainfire's SuperSU.
Related Posts