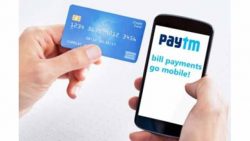 Do you know how to use Paytm wallet app on your iPhone? Paytm is currently the hot favorite app of Indians, especially after the Indian government's demonetization of 1000 and 500 rupee notes. So, it is time for all of us to learn how to use Paytm wallet app and start paying local merchants.
Paytm Wallet: What it Means
Paytm wallet is a digital wallet that is present within your Paytm account. Any person owning a Paytm account can transfer money from his account or credit/debit card to his Paytm account. Once transferred, he can utilize this amount to pay almost anything: mobile bill, grocery bill, etc.
Limitations of Paytm Wallet
The limitation of a Paytm wallet is 10,000 rupees per month. That is you cannot transfer more than Rs. 10000/ to your Paytm account in a month.
Security
Paytm wallet is fully approved by the Reserve Bank of India. All the transactions are highly encrypted and do not show details regarding the real transaction. Therefore, you can use Paytm without any fear. Getting the KYC (Know Your Customer) process completed can be a little confusing, but, if you have a valid Aadhar card, then it will be verified within 24 hours. All these features make it easy for the common man to use Paytm wallet app on smartphone.
Steps to Use Paytm Wallet App on iPhone
Setting Up the Account
The first step to use Paytm wallet app on iPhone is to set up a Paytm account. Download the Paytm app, open it in your iPhone and then tap on Profile. From there, tap on the option "Hello! Login to Paytm."  Now, tap the option "Sign up" to create your Paytm account. Once you are done with creating the Paytm account and verifying the email, now log in using your account details.

Adding Money to Paytm Wallet
The next step to use Paytm wallet app is to add money to your Paytm wallet. On the home screen of the iPhone, you must tap on the option "Add Money." Now, enter the money you would like to add to your Paytm wallet and then tap on the option "Add Money. It will take you to the payment details page, where you need to link your bank account or credit card account. Once you are done with the process of linking your bank account or credit card/debit card, your Paytm wallet will have the amount you entered.
Using the Card to Pay
Now that you have money in your Paytm wallet, the next step is of course to pay using the card. There are many ways to pay bills using your Paytm Wallet App on your iPhone. From the home screen, tap the option "Pay/Send." If you are going to pay with the help of a QR Code, then tap the option "Scan Code" and now hold your iPhone over the QR code for authentication and paying. You can also pay money via a mobile number by entering the cell phone number. Then, you must enter the amount you want to pay and tap on the option "Pay/Send." You will receive a confirmation message, and the party to whom you sent the payment will get a notification message, as well.
Conclusion
To use Paytm wallet app on your iPhone is easy once you are used to it. The world is changing and transactions are becoming cashless. It is time for you to change as well. Using Paytm is fairly easy to learn and makes it easy to pay for items without having to carry cash.
Related Posts