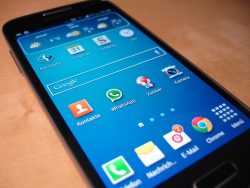 Now that you have bought your new iPhone 7 and installed WhatsApp, the next thing is to make WhatsApp video calls to your friends and relatives. Nowadays, people can use WhatsApp for not only sending messages, but also for making video calls. WhatsApp has really made communication easier.
In the past, WhatsApp was having huge pressure from other apps life Facebook Messenger and FaceTime as these already supported video calls.  After working on this feature for a few months, finally WhatsApp introduced the option to make WhatsApp video calls from your Smartphone. But, now that they have it, how do you use it? By going through the details given below you can easily make WhatsApp video calls using the latest version on your iPhone.
Steps to Make WhatsApp Video Calls on iPhone
Before you set out to make WhatsApp video calls from your Smartphone, make sure you have the updated version of WhatsApp installed on your Smartphone. WhatsApp currently supports one-to-one video calls from your Smartphone. If you are planning to use this functionality in group chats, you'll have to wait.
To make WhatsApp video calls, open a conversation window with the person with whom you are planning to video call with. Now, on top of the tool bar, near to the name of the person, you can see a new video icon. The "Video" icon is the latest icon that represents the video call functionality in WhatsApp. Now, tap on that option to start your WhatsApp video call.
Another thing you need for this to work is that the other person also needs to have the latest version of WhatsApp running on their Smartphone as well. If that person does not have it, then you cannot make WhatsApp video calls to that person.
Camera View in WhatsApp Video Calls
Once the call between the two of you begins, you can see the camera view on your Smartphone's screen. The camera view will be displayed at the top of the screen as well. WhatsApp provides the user with three options here:
To switch between the cameras

To mute the conversation

To end the conversation
When you are on a video call, you can continue to use your Smartphone for browsing or sending WhatsApp messages. It will not interrupt your WhatsApp video call.
Quality of Video Calls in WhatsApp
Even though it is only now that WhatsApp started supporting video calls from your Smartphone, the quality of video calls is excellent. Even though there are still some areas that need improvement (especially the lag in audio), it is a wonderful feature to have in WhatsApp. WhatsApp was testing this feature for a few weeks before it was released to the public. In the coming months, WhatsApp plans to make more improvements in the quality of WhatsApp video calls and that is encouraging news for WhatsApp lovers all around the world.
Conclusion
If you and your friends have the latest version of WhatsApp installed, you can make WhatsApp video calls to them without any difficulty.
Related Posts