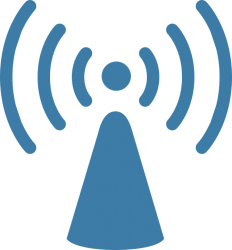 Did you know that you can turn your Windows PC or your laptop into a Wi-Fi Hotspot to enable other wireless devices around you to access the Internet?
Normal Scenario
At home or your office, you would be using your modem to connect all your devices wirelessly to the network SSID, broadcast by the modem. When you setup your modem, either at home or in your office, the SSID or Service Set identifier, is used by all wireless enabled devices, like personal computers, laptops, tablets, mobile phones, and printers to connect to your modem using a secure wireless connection. What if you are stuck in a hotel room with your laptop and need to turn your Windows PC because you have more than one device that needs access to the Internet?
Hotel Room
Your hotel room has allowed only one login per room to access the Internet through their modem or you find only one hard wired Ethernet connection in your room. This limits your Internet use to only one device in your room. If you are travelling with business partners, you both probably brought along your laptop, and you both need Internet access. Or, perhaps you're on vacation with the family and everyone has their own smartphone or gaming device that needs Internet. What do you do? Just turn your Windows PC into a Wi-Fi hotspot!
Turn your Windows PC to Act as a Hotspot
How do you turn your Windows PC or laptop into a Wi-Fi hotspot? Here is the process in easy steps for a Windows 10 PC, as this is the most widely used operating system on today's laptop devices.
If your Windows PC or laptop has the anniversary update already installed, they have made it very easy to turn your Windows PC or laptop into an Internet hotspot. Your PC would have automatically downloaded this update. Here is what you need to do.
Step 1: Press "Windows" key on your keyboard with one finger and then the letter "I" with another to open the "Settings" in Windows 10.
Step 2: Click on the picture of the globe named "Network and Internet."
Step 3: Click on "Mobile Hotspot" located at the bottom left of your screen.
Step 4: On top of this page, change "Mobile Hotspot" to "On."
Step 5: Turn "On" the "Share my Internet connection with other devices" switch on the right-hand side.
Step 6: If you wish to change the default network name, you can do this in the "Edit" page that comes up, and type in a password for your new Wi-Fi hotspot.
Step 7: Now click "OK" on the "Edit" page and you are done.
Once you have completed the steps to turn your Windows PC into a hotspot, all additional devices that need Internet can now use this network name and will require the password that you have just typed in.  
Older Versions
Previous versions of Windows like 8 or 7 use a different process to achieve the same purpose. Lookup the Windows website for relevant information.
Conclusion
In situations where you are limited to one hard-wired Ethernet connection for your laptop and have to pay additionally to connect another device like a tablet or a mobile to the Internet, you can just turn your Windows PC or laptop into a hotspot to connect additional devices.
Related Posts