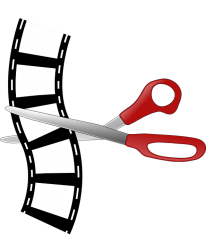 Nowadays, the quality of cameras in your smartphone is so good that you can take videos and even trim and cut videos for editing. The popularity of the camera in a smartphone has gone beyond our imagination. You can see people using smartphone cameras to record every event in their life. But, have you ever wanted to trim and cut videos so that they look 100% professional? Here are some ways to trim and cut videos on your Android device that can make your video look professional.
Google Photo App
Google Photo App is a simple to use app that allows you to manage photos in your Android device. It has a user friendly interface, simple features for editing photos and unlimited online storage space. You can directly upload photos and videos from the Android device to the Cloud using this app.
A few years back, it was difficult to trim and cut videos on an Android device. But today, with the help of the "Photo App" from Google, you can easily trim and cut videos on your Android device. And what's more, the process is somewhat similar in every Android smartphone.
Trim and Cut Videos on Your Android Device Using Photo App
The first step is to start your Google "Photo App." If the app is not installed on your smartphone, you can easily download it from the Play Store. Once the Photo App is installed on your Android Smartphone, the next step is to set up the "Back up and Sync" option. By default, the back up and sync option will be on, so it is better not to change it. Just confirm it by pressing the "Done" button and now you can move to editing your video part.
Open the video you want to edit on your Android device. When you open the video, you can see a "Pencil" icon at the bottom. We use that icon to trim and cut on a smartphone. (Note: If the pencil icon is not displayed, you may be using an older version of the Photo App. So, you will have to update the app to the latest version).
Now, edit the video using the tools given in the app. There are not many tools out there, you just need to use the selection tool and the rotate tool to make the changes to your video. Once you're done with the changes, the video will be saved automatically. You don't have to worry about the original video, as it will remain intact in your gallery folder. There is no need to name the new file as everything will be done automatically by the Photo App.
That's all you need to do to trim and cut videos on your Android device using Photo App from Google.
There are many other tools that can trim and cut videos on your Android smartphone. But most of them are paid apps while others are complicated. The easiest app is the Photo App from Google that makes it easy to trim and cut videos on your Android device.
Related Posts