Want to truly personalize your computer? Then you need to edit the OEM information of your computer. OEM (Original Equipment Manufacturer — companies like Dell, HP, Gateway, Acer, Asus, Samsung, etc.) information is the stuff shown when you open System from Control Panel — things like Manufacturer, Model, etc. Editing such OEM information can be done via registry tweaks; or you can use OEM Configurator.
What Is OEM Configurator And What Does It Do?
OEM Configurator is a freeware, portable tool that allows users to edit their computers' OEM information: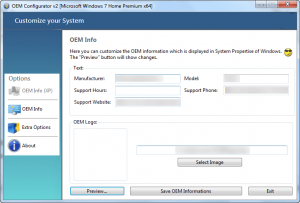 OEM Configurator allows users to edit six pieces of OEM information: Manufacturer, Model, Support Hours, Support Phone, Support Website, and OEM Logo. You can set any of these six values to whatever you want (image must be a bitmap file). For example: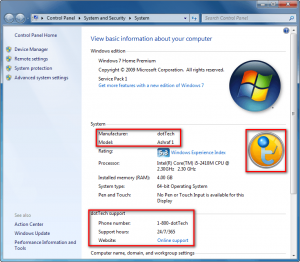 As you can see, dotTech is now the OEM of my laptop, hehe.
In addition to OEM information, OEM Configurator allows users to edit the Owner, Organization, Computer Name, Processor Name, Computer Description, and Product ID of a computer: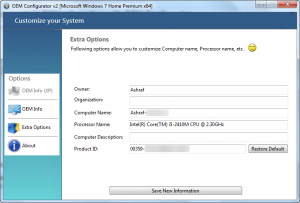 Using OEM Configurator
Using OEM Configurator is as simple as can be. Simply run the program, edit the information you want to edit and hit the Save OEM Informations/Save New Information to apply your changes.
Take note the Preview… button on the OEM information screen does not actually show you a live preview — it only brings up the System window. In other words, using the Preview button won't let you preview changes prior to applying them.
OEM Configurator Limitations
Do note aside from the Product ID, OEM Configurator does not have the ability to restore computer defaults for any information you change. For the most part changing OEM information won't do any harm to your computer so not being able to restore computer defaults isn't a big deal. However, changing Product ID is generally not a good idea; plus if you plan on selling your computer in the future you may freak out potential customers. So not having the ability to restore computer defaults can be devastating if you ever need to have the defaults back.
If you plan on using OEM Configurator to change things, I highly suggest you copy + paste your current information into a Notepad file (keep the file save) from which you can restore defaults at a later date, if you have the wish or desire to do so.
Conclusion
OEM Configurator is not exactly a groundbreakingly useful program, but it is still something fun to have — especially if you want to prank someone. You can grab OEM Configurator from the links below:
Version reviewed: v2
Supported OS: Windows XP/Vista/Win7/Win8
.NET Framework 4 is required
Download size: 352 KB
Malware scan: Virustotal scan results (0/43)
OEM Configurator homepage [direct download]
[via Ghacks]
Related Posts