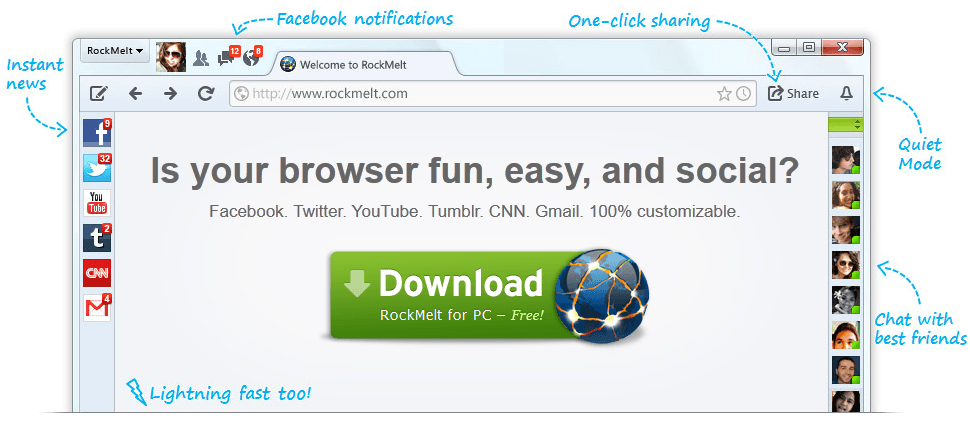 Are you a social networking hound? Can't stay away from Facebook? Seeing as the Internet browser is probably the most used application on your computer, if you are a socialite, wouldn't it make sense to have a browser that feeds your social networking needs? You know, a browser like RockMelt.
RockMelt is a third-party fork of Google Chrome. It takes the Chromium source code and adds in deep social networking integration, specifically Facebook. Heck, you can't even use RockMelt unless you have a Facebook account. In addition to Facebook, RockMelt has native integration with dozens (156 by my count) of other popular websites and services – including but not limited to Twitter, YouTube, and Gmail – via RockMelt's App Center, allowing users to easily and conveniently interact with their favorite websites/services. This emphasis on social integration makes RockMelt – alongside Flock – a niche browser aimed at people that regularly participate in social activities.
The following video by CNET gives a demo of RockMelt. The video is a bit old but still gives a good idea of what RockMelt is:
With such deep integration with social networks, a valid concern with RockMelt is privacy. Well, my socialite friends, you need not worry. The developer of RockMelt touts a rock solid privacy policy (pun intended). In their Privacy FAQs they state explicitly they don't store your web browsing or search history nor do they share your personal data with anyone:
Is RockMelt sending my browsing data to Facebook?
No, absolutely not. RockMelt does not share any data about you with any third parties.

Is RockMelt recording every site I visit and every search I make?
No, absolutely not. Your browsing is your browsing. The number one feature of browsers is trust, and we take that very seriously. Your browsing and search history is kept locally on your machine. It is not uploaded to RockMelt.

Is RockMelt using information to target me with ads?
No, absolutely not. We don't run or use an ad network and have no plans to start. Your browsing is your browsing. We're not monitoring it and have no incentive to do so.
In addition to that, RockMelt promises to not flood your Facebook account with spam:
Will RockMelt automatically update my Facebook status or spam my friends' walls?
No. RockMelt will never post new status updates on your wall or your friends' walls without your permission. The only status updates RockMelt posts are the ones you post yourself using RockMelt's Share button and sharing features. The "Post to my Wall" permission RockMelt asks for when you sign in is better understood as a "Use RockMelt to post to my Wall" permission, and is needed to let you share on your own wall from RockMelt.

I installed RockMelt. Why does RockMelt need all those permissions?
We know the permissions dialog looks scary. RockMelt needs those permissions to put your friends in the Edge of the browser, to bring your Facebook feed to you, and to act on your behalf when you share using the RockMelt Share button and ask RockMelt to perform other actions on Facebook.
The cool thing about RockMelt is because it uses Chrome's source code, most Chrome extensions work on RockMelt. (You grab extensions from the Chrome Web Store.) I say "most" and not "all" because due to the RockMelt's code modifications, some Chrome extensions break when used in RockMelt. However, by and large, most Chrome extensions do work in RockMelt without as much as a hiccup — including the much-loved Adblock Plus. So you don't have to pick between Chrome or RockMelt; you can have both, literally.
The downside to RockMelt is the downside of all fork browsers. Because RockMelt depends on Chromium source code, it lags behind Chrome updates. In other words, don't expect RockMelt updates to keep pace with Chrome. It takes time to take new Chrome code and port that to RockMelt. This means RockMelt won't instantly receive the latest, bestest Chrome features, although I assume RockMelt's developer quickly updates RockMelt when security patches hit Chrome.
To sum up, RockMelt is a very niche browser: It is for those that enjoy social media, specifically Facebook. If you don't use social media, RockMelt is not for you; however, if you are one of these social hounds, you should definitely give RockMelt a try. Who knows — you might just like it.
RockMelt is available on Windows, Mac, iPhone, and iPod. Android and iPad versions are promised "soon". You can grab RockMelt from the links below; while RockMelt is officially still in Beta, it works very well.
Version reviewed: v0.9.72.615
Supported OS: Windows, Mac OS X, and iOS
Download size: Varies depending on version
Related Posts