Software Description
The following is a description of O&O DiskImage 5, as per the developer:
Prevent data loss easily and securely! With O&O DiskImage 5 you can
create images of your entire computer or individual partitions during
operation. If data loss occurs, your imaged data (files, folders, partitions)
will be available to you in no time with just a few clicks – even if
Windows cannot be started anymore!

Highlights

Express view with main functions
Simplified view of the Startpage
Adaptable size of target drive
One-click imaging
M.I.R. Restoration onto different hardware
E-mail notification of activities
Additional information bar
TrayIcon to provide information on service and job status
Also creates system partition images during operation
1:1 copies of drives (cloning)
Advanced burning functions to CD/DVD/Blu-ray/HD-DVD
Works with Microsoft Virtual PC Disks (VHD)
Start CD with base operating system and system rescue tools
and much more…

Advantages of taking an Image
Sure, there are virus scanners, system restore points and you no doubt
have your private data saved onto an external hard disk. So why make an
Image with O&O DiskImage? Well, an Image takes up much less space
than a simple copy. You can also set up regular images of just the latest
changes to your system, as opposed to copying everything over again.
An Image means that when trouble strikes, in the form of a crash or software
virus for example, you are perfectly equipped to simply boot up your
system from the Start CD, restore the image of your system, and your old
computer is back as if nothing had ever happened!

Simple user-guidance
The new One-click imaging is the quickest and easiest way to make an
entire image of your data and settings, including the system partition. It is
particularly useful when using O&O DiskImage for the first time or when
you have yet to make an image of your system. The advanced information
bar leads you step-by-step through the process, and provides you with
important information on actions carried out.

Exclusive methods for data backup
Besides the time control, O&O DiskImage offers different imaging methods.
With the complete imaging option, you can choose between a
space-saving used sector image and an all-encompassing forensic image
for the purposes of a data recovery – for example when using products
from the award-winning O&O RescueBox. You save space with an Image
of the changes (incremental or differential image): Only data sectors which
have changed will be imaged.

Quick and convenient restoration
Our BareMetal technology enables you to immediately resurrect a system
using O&O DiskImage without you having to previously install it. The
included and bootable CD is based on Microsoft Windows and contains
all standard drivers of Windows, so that most of the systems do not need
to include own drivers. In addition, more drivers can be installed with the
help of a Wizard whether for Controller or network cards. The Start CD
also includes various system rescue tools. The new function M.I.R. (Machine
Independent Restoration) enables restoration or duplication of system
partitions onto machines with different hardware setups.

Restore individual files
Both full and incremental images can be mounted as virtual drives. This
enables you to directly access individual files or folders, without having to
restore the whole image. The virtually imaged drive behaves like a real one
but is protected and cannot be overwritten.

Made in Germany. Made in Berlin.
O&O DiskImage is available in three versions: The professional version is
meant for private users, the Workstation and the Server Edition for Administrators.
All O&O products are developed and maintained in Berlin.
O&O is one of the few companies that offer phone support without incurring
additional costs due to service charges of hotlines! More information
can be found in on our Homepage www.oo-software.com.
dotTech Advice
O&O DiskImage 5 Pro is a system-level image backup utility (not file-level). It allows users to create full or differential/incremental backups of hard drives/partitions; and has the ability to clone hard drives/partitions. Backups can be encrypted/password protected with AES 256/192/128 and compressed; backup images can be automatically split based on size; and there are multiple imaging methods available. O&O DiskImage 5 Pro has the ability to apply filters that allow users to exclude specific files, folders, or file types from being included in a backup. A similar filter allows users to exclude files, folders, or file types from being compressed in a backup. Backups are created in O&O DiskImage's proprietary OMG format but it gives users the ability to convert backups into non-proprietary VHD (Virtual Hard Disk) format. (When converting OMG backups to VHD, both the OMG backup image and VHD are kept — the OMG backup image is used to restore with O&O DiskImage while the VHD file is for other programs.)
Backups can be run as one time affairs or backup jobs can be created. Once a backup job is created, it can be scheduled to automatically happen X times a week (you decide how many times a week you want to run it — you can run it once per day). A backup job also allows users to tell O&O DiskImage to run specific commands before and/or after the job.
Doing a quick test, I noticed O&O DiskImage creates backups fairly quickly. Running it at default settings (no encryption and default level of compression), DiskImage was able to create a 7.02 GB backup image of 12.2 GB data in about six minutes; it took another six minutes to create a VHD of that backup image. During the backup DiskImage used about 20% CPU on average and during the conversion it used about 10% CPU on average; none of these values are too bad although it must be noted I'm on a quad-core laptop so you may experience different CPU usage if you are on a dual or single core.
Up until now all the features mentioned of O&O DiskImage have been pretty ordinary. They are the features we expect to be in a system-level backup program. The one feature that potentially makes O&O DiskImage stand out above the crowd is the WinPE recovery disc: O&O DiskImage 5 Pro comes with the ability to build a WinPE recovery disc. I didn't test the recovery disk but it is important to note this is WinPE not Linux-based. Many other system-level backup offer Linux-based recovery discs only.
What surprised me the most about O&O DiskImage is there appears to be no way to pause backups. This means not only are you unable to manually pause backups but it also means O&O DiskImage isn't a very good choice for automatic backups because it won't automatically pause itself if system load is too high, such as what Ocster Backup Pro 7 does.
To conclude, O&O DiskImage 5 Pro is good. It has all the features – aside from the ability to pause – that one expects to have in a system-level backup utility. However, O&O DiskImage 5 Pro is not great. It doesn't have anything that makes me say "wow drop what you are using right now and get this". The only potentially attractive feature of O&O DiskImage 5 Pro is the WinPE recovery disc; but is that worth dropping what you use right now for O&O DiskImage 5 Pro? I don't think so, but you may disagree.
Freebie Details
O&O DiskImage 5 Pro is being given away in a promotion by DownloadCrew. The giveaway is live for 24-hours only (ends December 31, 2011 11:59 PM Central European Time [6:59 PM Eastern Standard Time]). There is no information on if you are install/reinstall at a later date or not.
To get O&O DiskImage 5 Pro for free, do the following:
Version being given out for free: v5.5 Build 126

Free updates: Unknown
Free technical support: Unknown
Supported OS: Windows 2000 Pro/XP/Vista/Win7

Download size: 116-117 MB

To take advantage of this giveaway you need to have an account with DownloadCrew. If you already have an account with them, skip to the next bullet point below. If you don't have an account with them, visit the registration page and register (registration is free):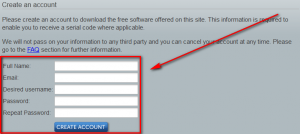 After you fill out the form and hit CREATE ACCOUNT, if you do it properly you will be shown the following message:
Now check the inbox of the e-mail address you registered with. Look for an e-mail from noreply@giveaway.downloadcrew.com with subject of giveaway.downloadcrew.com – New Account. In the e-mail is a link you need to follow:

Click on the link or copy + paste it in your browser. Once the page loads your account has been confirmed (there is no success message) and you can use it.
If you are not already logged in (you may already be logged in if you just created a new account) visit the login page and log into your DownloadCrew account :
Visit the promotion page and scroll down about half way and click on the GET SERIAL CODE button:

Copy the serial code that appears:

Scroll up and click the DOWNLOAD button to begin downloading O&O DiskImage 5 Pro: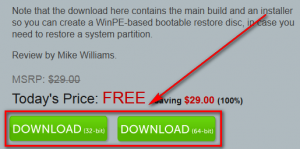 After the download finishes, install O&O DiskImage 5 Pro. Take note the O&O DiskImage 5 Pro download is of a ZIP file. Inside that ZIP file are two installers — OODiskImage5ProfessionalEnu.exe (or OODiskImage5Professional64Enu.exe if you download the 64-bit version) and OOPE_OODI_5.6.18_X64_ENU.exe. OODiskImage5ProfessionalEnu.exe is the installer for O&O DiskImage 5 Pro — the other file is the installer for the WinPE recovery disc.
At the end of installation you will be asked to restart your computer. Restart your computer.

Note: Before you restart your computer save your serial key somewhere safe like a Notepad file so you can use it after restart. If you choose not to save it, don't worry — you can grab it again from DownloadCrew as long as the giveaway is live.

After restart, run O&O DiskImage 5 Pro; you will be promoted to register it. The following screenshots show exactly how to register O&O DiskImage 5 Pro — follow the red arrows and boxes: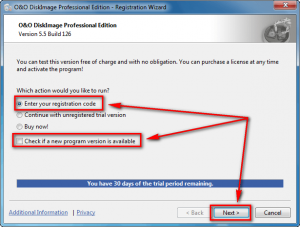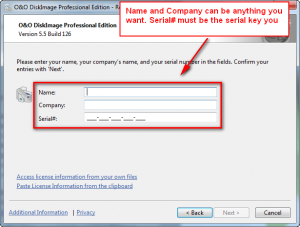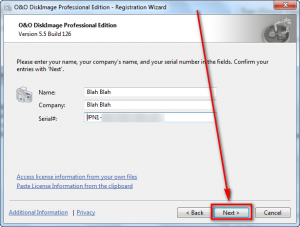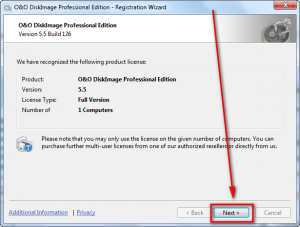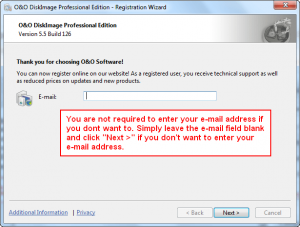 If you have trouble getting O&O DiskImage 5 Pro for free, post below and other dotTechies or I will try to help.
[via Techno360]
Related Posts