iOS has over 600,000 apps. With so many apps out there, app discovery (aka finding new and useful apps) is extremely difficult. With our iOS Apps of the Day initiative, dotTech aims to change that. Everyday we post three apps, allowing our readers to discover new apps, daily. Enjoy! [Subscribe to our iOS section to never miss an article: RSS Feed | E-mail]
Developers: Click here to get your apps featured here!
dotTechies: Want to see an app on here? Send us a tip!
Apps for March 23, 2012
Google Translate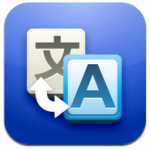 Google Translate translates from language to another language. You can either type what you want translated or press the microphone to speak what you want to translate. You can choose more than 60 languages to translate from and some of the languages have the ability to sound off the translated words in that language. The app will remember up to 5 translations that you have recently used.
Even though it seems easy to speak what you want translated, you might have a few issues because you need to speak clearly and calmly. If that doesn't happen, then Google Translate will think something other than what you really want to translate.
Version discovered: 1.3.1

Requires: iPhone/iPod Touch/iPad; iOS 3.0 and up

Download size: 2.2 MB

ExcelContacts Lite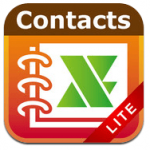 Backing up your contacts is a mus, and paying $100 for Mobile Me to have everything backed up to Apple's Mobile Me site is useful but expensive. ExcelContacts Lite will back up your contacts to an Excel file that is compressed in a Zip file and can be saved via USB or stored locally over WiFi; or it can be sent to your email address, Dropbox, or to any other app that accepts files. The contact list will be saved on the iPhone which can be accessed in the Settings section and your contacts that the app saved on the device can be deleted as well. Instead of an Excel file, you can export contacts in a CSV file so that Gmail can import them directly andpassword protect your export file so that no one can access it. All of your contact information apart from ringtones can be exported or imported. This app is able to remove all current contacts on the device before you import the ones you have in the backed up file.
The only limitations in the Lite version is that you can export/import 150 contacts at a time. If you have more than 150, then you will need the full version of the app.
Price: Free; Full version – $2.99

Version discovered: 2.3

Requires: iPhone/iPod Touch/iPad; iOS 3.1.2 and up

Download size: 3.1 MB – Free; 3.2 – Full

Texas Poker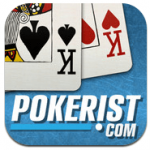 Texas Hold'em has become one of the most popular poker games around. Pokerist.com's Texas Poker app connects you with other poker players from around the world, allowing you to sharpen up your poker skills and not worry about showing a poker face. You will get bonus chips in the game's lottery every day so that you can use that extra amount of chips to bet others in the game. It doesn't cost anything to play nor do you use any real money in the game unless you want to buy more chips using the in-app purchases. If you don't want to spend money purchasing chips, you can get more chips by winning poker games, if you are are a master at this game. You can also invite your friends to play via Facebook, Twitter, and email, and if you don't know how to play there is an in app tutorial to help you along.
Texas Poker has a paid version called Texas Poker Pro. The difference between the two is Texas Poker Pro has a different interface, you can buy gifts from other Pokerist players, block chat from annoying players, there is a way to earn more chips, and there is an extended help manual to play Texas Hold'em. You do pay a steep $24.99 for these Pro features, however.
Version discovered: 3.0.3

Requires: iPhone/iPod Touch/iPad; iOS 3.0 and up

Download size: 17.6 MB – Free; 17.4 MB – Pro

dotTechies: We have tested all the apps listed above. However, iOS Apps of the Day articles are not intended as "reviews" but rather as "heads-up" to help you discover new apps. Always use your best judgement when downloading apps, such as trying trial/free versions before purchasing paid apps, if applicable.
Related Posts