iOS has over 600,000 apps. With so many apps out there, app discovery (aka finding new and useful apps) is extremely difficult. With our iOS Apps of the Day initiative, dotTech aims to change that. Everyday we post three apps, allowing our readers to discover new apps, daily. Enjoy! [Subscribe to our iOS section to never miss an article: RSS Feed | E-mail]
Developers: Click here to get your apps featured here!
dotTechies: Want to see an app on here? Send us a tip!
Apps for March 27, 2012
Solitaire Deluxe®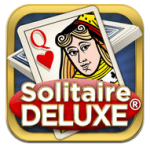 Solitaire Deluxe® is a card game app that you can play 16 different solitaire games. You can play the free game or remove the ads if they annoy you too much. When you start the game for the first time the app will download new features, and you start off with 2,000 reward coins. Everyday you will spin the wheel to earn more reward coins, and you use the 100 coins for each play.
The games included in the app is Klondike, FreeCell, Spider, Pyramid, Tri-Peaks, Chinese Solitaire, Scorpion, Yukon, Golf, Canfield, Kings Corner, Vanishing Cross, Spiderette, Poker, Russian Solitaire and The Harp. You get to play these games in either portrait or landscape mode plus there are simple tutorials for each game and will give you the option on how to play when the app knows you haven't played that game. You can connect with your friends and sync scores within the app on Facebook, and you can even tweet about it via Twitter without closing Solitaire Deluxe®.
Price: Free (ad-supported); No Ads & 5,000 reward coins – $4.99

Version discovered: 2.5.5

Requires: iPhone/iPod Touch/iPad; iOS 4.0 and up

Download size: 19.1 MB

Audiobooks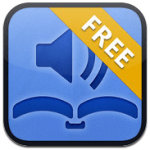 Audiobooks connects with the app's server which will allow you to listen in on the audio books they have for free, on a premium level or a plus level. You can pay for premium or plus from within the app or you can buy the premium app separately. If you want to go plus while using the premium app you can purchase it within the app.
Plus costs $7.99 which might sound good if the reviews from people that did pay for it also have to pay for the plus books at $0.99 each. For some reason it makes no sense why you can purchase Plus, and then pay for the books you think are free with that in-app purchase. The way the app reads is that you get Plus content after paying for it.
Version discovered: 4.8.1

Requires: iPhone/iPod Touch/iPad; 3.0 and up

Download size: 12.5 MB

ForeverMap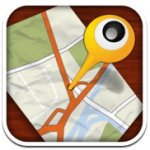 ForeverMap is a navigation map that is unlike other apps that either tell you where you are or give you directions. All you need to do is via a WiFi connection download the city maps you need, and you can search for an address, location, and plot a route without even connecting to the internet since you have the map already on the phone. Using ForeverMap is very useful from within the iPad which makes it a fully fledged mapping device that is easy to read and follow.
ForeverMap uses OpenStreetMap which is known as the Wikipedia of Maps and keeps the maps updated free of charge. With this app you have access to maps of North America, simple filters, routes for pedestrians and cars, current position finder, compass functionality, and bookmarks to save your searches if you need them again. There is an IdealLog for you to make suggestions to the developer on future improvements.
Version discovered: 2.1

Requires: iPhone/iPod Touch/iPad; iOS 3.1 and up

Download size: 9 MB

dotTechies: We have tested all the apps listed above. However, iOS Apps of the Day articles are not intended as "reviews" but rather as "heads-up" to help you discover new apps. Always use your best judgement when downloading apps, such as trying trial/free versions before purchasing paid apps, if applicable.
Related Posts