Windows has hundreds of thousands of programs. Because of this great volume and lack of a central store, software discovery (aka finding new and useful programs) is extremely difficult. With our Windows Software of the Day initiative, dotTech aims to change that. Everyday we post three programs, allowing our readers to discover new software, daily. Enjoy! [Subscribe to our Windows section to never miss an article: RSS Feed | E-mail]
Developers: Click here to get your apps featured here!
dotTechies: Want to see an app on here? Send us a tip!
Software for March 30, 2012
WinRoll

So. Many. Applications. How do you get room on your screen!?
Actually, it's as simple as right clicking on their title bars. With WinRoll, it's as easy as can be. WinRoll allows users to "roll up" windows so that only their title bar is showing. To make a window full size again, you just right click again. There's really not much more to this painless piece of software. You can set a transparency on the rolled up windows, although this didn't actually work in my testing. However, even with just the ability to roll up your windows, this is a tiny tool and would fit almost 170 times onto even a 1.44MB floppy!
Price: Free!

Version discovered: v2.0

Supported OS: Windows 2000/XP/Vista/7

Download size: 8.7KB

Malware scan: VirusTotal scan results 0/43

Volumouse
Many laptops have a keyboard that's laid out in a way that makes it near impossible to change the volume quickly or easily. Many desktops have the same problem: the volume control is on the speakers far from where your hands usually rest on the keyboard and mouse.
Volumouse is a great and cool solution to this problem that works by taking the two things your hands rest on (the keyboard and the mouse) and using them to control the volume.
By simply setting a rule such as "when the ALT key is down change the volume on the default playback", you'll be changing the volume just by scrolling in just seconds. And it's not simply one rule: you can set up to 12 rules and change volumes on many different things, including on a per-application basis. Volumouse is a great tool to keep in your toolkit, and it's a tiny one too.
Price: Free!

Version discovered: v2.00

Supported OS: Windows 98/ME/NT/2000/Server 2003/Vista/Server 2008/7

Download size: 51.7KB / 118KB /74.1KB

Malware scan: 0/43 (self install) | 0/43 (auto install) | 0/43 (self x64 install)

Alarm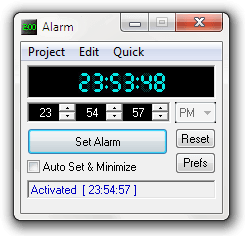 If you're anything like me, you have several alarms so you actually get up on time in the morning. I have a phone, a tablet, and a digital alarm clock to wake me up. However, even though I have all these alarms, I still don't always get up on time. With Alarm, I can set yet another alarm to hopefully wake me up on time.
With Alarm, you can set any media file you want as your alarm tone. In fact, you can even use custom codecs for files such as OGG, FLAC, and more! You can also make it run certain commands and show certain messages when the alarm goes off — perhaps open a web browser, or yell at you to wake up.
Price: Free!

Version discovered: v2.0.6

Supported OS: Windows ME (?)/2000/XP/Server 2003/Vista/Server 2008/7

Download size: 705KB

Malware scan: VirusTotal scan results 0/42

dotTechies: We have tested all the software listed above. However, Windows Software of the Day articles are not intended as "reviews" but rather as "heads-up" to help you discover new programs. Always use your best judgement when downloading programs, such as trying trial/free versions before purchasing shareware programs, if applicable.
Related Posts