iOS has over 600,000 apps. With so many apps out there, app discovery (aka finding new and useful apps) is extremely difficult. With our iOS Apps of the Day initiative, dotTech aims to change that. Everyday we post three apps, allowing our readers to discover new apps, daily. Enjoy! [Subscribe to our iOS section to never miss an article: RSS Feed | E-mail]
Developers: Click here to get your apps featured here!
dotTechies: Want to see an app on here? Send us a tip!
Apps for April 8, 2012
Oldify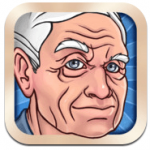 Oldify is a photo modifying app that will change the person in the photo to look older. Once you have selected or taken a photo you can line up the eyes and mouth to have the photo age right away. Also this app adds more to the photo by animating the picture as well as adding sounds. You will see the photo smiling, blinking, coughing, yawning, and more than that plus watch what happens when you poke the picture in the face. You can even swipe your finger across and have the photo's eyes follow your finger. Once you are done it will be added to your photo booth in the app. You can also share the finished product on Facebook, Twitter, YouTube and even via MMS and Email. You can enjoy this app just by having fun with your friends to tease them how old they would look.
You can age the person in the photo to about 50 years, and according to the app's page you can buy something else in the app called Ancient Oldify effects for $0.99. However there was no where to find it within the app. If anyone knows where it is, please post a comment below. Also it should be noted that even though the app adds movement to the finished photo it might give someone a creepy feeling even though they never experienced something like that with any app (like me).
Price: $0.99 (currently Free for Easter weekend)

Version discovered: 1.5

Requires: iPhone/iPod Touch/iPad; iOS 3.1 and up

Download size: 18.6 MB

Lohas Money (All-in-One Money Planner)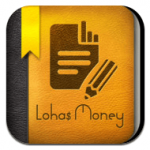 Lohas Money is a money managing app that keeps track of your income, expenses, assets, billing statements, and even helps you keep your budget intact. You have access to all you need with tabs at the top, and even keeps everything in check by a battery icon showing how to compare expenditure with income or budget and even your current asset with your target asset. Your credit card you use will be entered in automatically without using the number pad and even the credit card company information as well so long as you have iOS 4.0 and up installed.
There are so many other things you can do keeping track of your income and expenses. You can also keep track of your assets with everything from transferring from one asset to another, credit card functions to set a payment up and reference data to calculate the expense, and even edit or inquire about the total amount of transactions in each asset. You can also repeat any income, expense, account transfer and billing items.
You can even export your information to a CSV file for income and expense details. There are even graphs and charts to show how your money is organized. You can even have the information password protected and even use iTunes to back up your data through your computer. There is a Lite version you can try before you pay for the full version since there are so many things you can to keeping track of your money.
Version discovered: 1.75

Requires: iPhone/iPod Touch/iPad; iOS 3.1.2 and up

Download size: 12.9 MB

8bit Ninja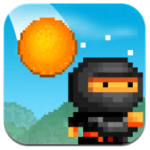 8bit Ninja is a classic looking game that has the basis of staying alive from bouncing fruit while collecting glowing balls which are dragon fruit and power-ups which some can allow you to destroy the fruit for more dragon fruit. Your character will level up the more you score. The more you play you will be able to buy more characters and backgrounds that can be purchased with dragon eggs. Since this has ads in the game, the only way to remove them is to buy some dragon eggs in the app's store. There is an Easter egg (sorry for the pun with today being Easter) that you can find the super secret Retro mode somewhere in the game.
Version discovered: 1.0

Requires: iPhone/iPod Touch/iPad; iOS 4.0 and up

Download size: 7.4 MB

dotTechies: We have tested all the apps listed above. However, iOS Apps of the Day articles are not intended as "reviews" but rather as "heads-up" to help you discover new apps. Always use your best judgement when downloading apps, such as trying trial/free versions before purchasing paid apps, if applicable.
Related Posts