Windows has hundreds of thousands of programs. Because of this great volume and lack of a central store, software discovery (aka finding new and useful programs) is extremely difficult. With our Windows Software of the Day initiative, dotTech aims to change that. Everyday we post three programs, allowing our readers to discover new software, daily. Enjoy! [Subscribe to our Windows section to never miss an article: RSS Feed | E-mail]
Developers: Click here to get your apps featured here!
dotTechies: Want to see an app on here? Send us a tip!
Software for April 9th, 2012
shutDownAgent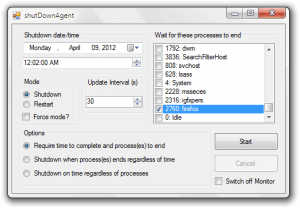 Lots of people leave their computers up overnight to dob things like run updates or finish downloading files. If you do this, however, you may be wasting a lot of electricity and lowering your computer's lifespan.
shutDownAgent is a nice little program that lets you automatically shut down your computer when certain programs close. To use it, just choose a program from the list of programs on the left and a shutdown option. You can either automatically shut down the computer at a time, shutdown the computer after a time and after the programs are closed, or just wait until the programs are closed.
shutDownAgent is a nice little program for anyone who wants their computer to shut down at a certain time depending on active programs.
Price: Free!

Version discovered: v1.0

Supported OS: Windows (unknown) with .NET 4.0

Download size: 12.5KB

Malware scan: VirusTotal scan results
UAC Pass
Let's face it, UAC is annoying. But many people don't want to disable it. How can you make it so you can use programs like Everything without having to accept a UAC prompt every time? Actually, with UAC Pass, it's quite easy.
For a long time it's been possible to create UAC-free shortcut using Windows Task Scheduler, but it's a hassle and takes a while. UAC essentially automates this process: just drag a shortcut that requires UAC onto UAC Pass and it'll create a UAC-free shortcut in either your desktop, your start menu, or even pin it to your taskbar. Therefore, it's very easy to make these kinds of special shortcuts.
UAC Pass is a tool that'd I'd recommend keeping in your toolkit – you never know when you'll need a UAC-free shortcut.
Price: Free!

Version discovered: v1.5

Supported OS: Windows Vista/7

Download size: 312KB

Malware scan: VirusTotal scan results 2/41

X-Ray
No antivirus is created perfectly. For this reason, tools like VirusTotal were created: you can submit your files to them to see if they're malicious or not. However, sometimes you want to send files directly to antivirus companies so they can test them themselves and add the file to their databases.
Uploading to VirusTotal also has the downside that you have to upload the entire file just to find out if it's been analysed before. X-Ray is a very well designed tool that solves all these problems by making submissions automatic.
Price: Free!

Version discovered:
Supported OS: Windows XP SP3+

Download size: 932KB

Malware scan: VirusTotal scan results 1/41

dotTechies: We have tested all the software listed above. However, Windows Software of the Day articles are not intended as "reviews" but rather as "heads-up" to help you discover new programs. Always use your best judgement when downloading programs, such as trying trial/free versions before purchasing shareware programs, if applicable.
Related Posts