Today's Apps
Subscribe to our iOS section to never miss an article: RSS Feed | E-mail
About iOS Apps of the Day
iOS has over 600,000 apps. With so many apps out there, app discovery (aka finding new and useful apps) is extremely difficult. With our iOS Apps of the Day initiative, dotTech aims to change that. Everyday we post three apps, allowing our readers to discover new apps, daily. Enjoy! [Subscribe to our iOS section to never miss an article: RSS Feed | E-mail]
Developers: Click here to get your apps featured here!
dotTechies: Want to see an app on here? Send us a tip!
Apps for April 19, 2012
Yellow Pages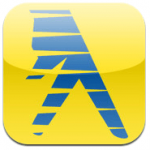 Yellow Pages is an app to help you find the phone number or physical address to what you are looking for whether it be a plumber or the closest bowling alley. Some of the features include having select restaurants include menus and reservations, save money with the Deal Section (on iPhone or iPod Touch only), you can search with your voice, have "Showtimes" integration which includes trailers, descriptions, posters, ratings, driving direction, plot, etc (on iPhone or iPod Touch only), option to do auto detect or custom locations, results are based on distance from your current location, add business info to your Contacts, share through Facebook, Twitter, email, and SMS, mapping for every business, turn-by-turn voice navigation options if you have Navigon or TomTom apps already installed on your device. Also on the iPhone only a new feature called free turn-by-turn voice GPS Navigation.
Version discovered: 4.4.2

Requires: iPhone/iPod Touch/iPad; iOS 3.1.2 and up

Download size: 5.1 MB

Titanic Rescue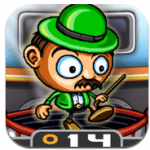 Titanic Rescue is a game that you basically have to save people from the doomed ship. All you need to do is flick the people on the ship and move the lifeboats to catch the person falling. As you continue it gets more challenging, and some things change from catching in a life boat to a life preserver. The game ends once you have missed catching 5 passengers.
Version discovered: 1.20

Requires: iPhone/iPod Touch/iPad; iOS 3.0 and up

Download size: 6.3 MB

Sticky Notes with Alarms and Bump™ Sharing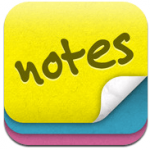 Sticky Notes with Alarms and Bump™ Sharing is a not taking app that looks like sticky notes. This app includes 460 fun emoji icons that other free and paid apps offer, and this one is free without any ads. You can use this in any app on your device which could be used in Sticky Notes, Mail, SMS, Notes, and many more. In this app you can also use multi-colored Post It notes that can be positioned anywhere on the screen, you have your choice of background textures and colors, and you also have full customization of your notes with multiple font styles, sizes and colors to choose from.  You can preview feature which allows you to preview your lockscreen with your current Sticky Notes layout to give you an idea of how it will look without having to leave the app. Sticky Notes will automatically save your notes so you can pick up where you left off, and you can email your notes directly from the app.
Upgrading to the full version as an in-app purchase or even buying the app in the App Store will include more features like sharing your notes with Bump™, you have over 20 styles of notes, papers, and objects you can add text to ranging from multi-colored Post It notes, calendars to place as notes on your board, organize notes into categories,  more than twenty-five backgrounds to choose from, and the ability to use any photo from your Camera Roll or take a new one! There are a few other add-ons you can buy from within the app to add more styles you can use in Sticky Notes.
Price: Free; Pro: $0.99 (currently on sale)

Version discovered: 3.3.9.3; Pro: 3.3.9.4

Requires: iPhone/iPod Touch/iPad; iOS 3.2.1

Download size: 20.7 MB; Pro: 19.5 MB

Sticky Notes with Alarms and Bump™ Sharing on iTunes
Sticky Notes Pro – with Alarms and Bump™ Sharing on iTunes
dotTechies: We have tested all the apps listed above. However, iOS Apps of the Day articles are not intended as "reviews" but rather as "heads-up" to help you discover new apps. Always use your best judgement when downloading apps, such as trying trial/free versions before purchasing paid apps, if applicable.
Related Posts