Today's Software
Subscribe to our Windows section to never miss an article: RSS Feed | E-mail
About Windows Software of the Day
Windows has hundreds of thousands of programs. Because of this great volume and lack of a central store, software discovery (aka finding new and useful programs) is extremely difficult. With our Windows Software of the Day initiative, dotTech aims to change that. Everyday we post three programs, allowing our readers to discover new software, daily. Enjoy! [Subscribe to our Windows section to never miss an article: RSS Feed | E-mail]
Developers: Click here to get your apps featured here!
dotTechies: Want to see an app on here? Send us a tip!
Software for April 27, 2012
Image Resizer
Resizing a bunch of pictures is a somewhat unwieldy task. In the early days of Windows XP, you could use Microsoft's free Image Resizer powertoy, but the days of those are long over. However, an intrepid developer has recreated the classic experience for modern day Windows users to enjoy: simple, easy to use image resizing is here again.
After selecting your images and choosing Resize Pictures from the context menu, the hard part is over. Now you simply have to choose the size you want to make your images: small, medium, large, mobile, or custom.
Image Resizer is quite easy to use, and makes for a nice way to quickly resize images.
Price: Free!
Version discovered: v3 preview 3
Supported OS: Windows w/ .NET framework
Download size: 887KB
VirusTotal malware scan results: 0/42
WebBrowserPassView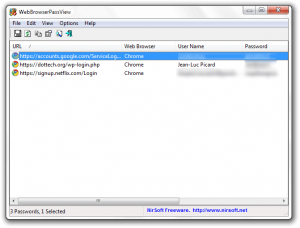 Want to prank a friend? Forgot your password? Try using WebBrowserPassView to see what your browsers have stored in them. I personally store way too many passwords in Firefox.
WebBrowserPassView works by using the various browser's built in password storage databases and can currently find passwords stored in Internet Explorer 4.0-9.0, any version of Firefox, Safari, and Opera.
Want to know how to protect yourself from WebBrowserPassView? You'd be surprised which browser offers the easiest method of security. In Internet Explorer, all you need to do is delete your history which consists probably of only Mozilla.com. In Firefox, you'll need to set a master password. Use Chrome, Safari, or Opera? You're out of luck, these passwords can't be secured.
All in all, WebBrowserPassView is not only convenient, it's scary. Scary.
Price: Free!
Version discovered: v1.25
Supported OS: Windows 2000+
Download size: 209KB
VirusTotal malware scan results: 13/42
SniffPass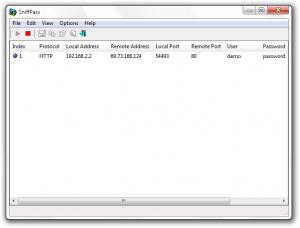 Often people leave their mail programs to log in, then instantly forget what those passwords are. Then, ten months later, they're searching high and low for their password and can't find it. However, with SniffPass, all you need to do is walk over to their computer, run SniffPass, and make their email program log itself in automatically. SniffPass supports the POP3, IMAP4, SMTP, FTP, and HTTP protocols, so there's plenty of passwords it can sniff.
SniffPass is quite a useful tool, but it is also a dangerous one. It goes without saying, but please do not use SniffPass for malicious purposes!
Price: Free!
Version discovered: v1.12
Supported OS: Windows NT/2000/XP/2003/Vista/7 optionally with Pcap or Microsoft Network Monitor
Download size: 44-111KB
VirusTotal malware scan results: 23/40 portable 32-bit | 6/41 portable 64-bit | 28/42 installer
dotTechies: We have tested all the software listed above. However, Windows Software of the Day articles are not intended as "reviews" but rather as "heads-up" to help you discover new programs. Always use your best judgement when downloading programs, such as trying trial/free versions before purchasing shareware programs, if applicable.
Related Posts