Today's Apps
Subscribe to our iOS section to never miss an article: RSS Feed | E-mail
About iOS Apps of the Day
iOS has over 600,000 apps. With so many apps out there, app discovery (aka finding new and useful apps) is extremely difficult. With our iOS Apps of the Day initiative, dotTech aims to change that. Everyday we post three apps, allowing our readers to discover new apps, daily. Enjoy! [Subscribe to our iOS section to never miss an article: RSS Feed | E-mail]
Developers: Click here to get your apps featured here!
dotTechies: Want to see an app on here? Send us a tip!
Apps for April 27, 2012
Tap-Dictionary
Tap-Dictionary is an add-on app to your device's Safari mobile browser. After launching the app, you are given instructions on how to have Tap-Dictionary work with you tapping on certain words in any site's pages and getting its definition. Once you follow the simple instructions, you will be able to use it after you click on the bookmark that the app tells you to create and modify. All you do once you've completed all the steps is to click on a word and a message box pops up with the definition of the word.
This app appears not to have a set price, but it has stayed $9.99 for most of the time. It has fluctuated numerous times from Free to $0.99 to $4.99 (opening price) and finally to $9.99. This is a great program to have even if you aren't too clear what the definition of a word you haven't seen before.
Price: Free (Limited time; Normally: $9.99)

Version discovered: 1.0

Requires: iPhone/iPod Touch/iPad; iOS 3.0 and up

Download size: 0.5 MB

FTP Sprite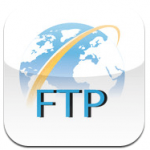 FTP Sprite is an FTP client that you can use on your device. It can upload to or download from any FTP or SFTP site, and enter in multiple FTP sites if you need them. You also can do USB file sharing through iTunes, share files via WiFi and supports Safari, Chrome, Firefox, and Internet Explorer 6/7/8/9 browsers.  Chrome and Firefox have the capability to upload multiple files at one time. You can even email multiple files and folders to where ever you need to send it.
You can do all sorts of explorer type actions like creating a folder, sorting the files by name, type, etc, and even view a lot of different types with this app. You can view text, photo, document, video and even compression files. This will extract files that have an RAR extension. Also this supports landscape mode if you need to type with two thumbs rather than one finger.
It should be noted when this app was tested, it worked but never connected to any FTP sites. It is unclear if there was a setting wrong or there is a bug in the program which, if that's the case, might be the reason it is free for a limited time. This app might work for you, but in any event this is a very nice program to have if you need to send files to an FTP site.
Price: Free (Limited time; Normally: $1.99)

Version discovered: 1.0.4

Requires: iPhone/iPod Touch/iPad; iOS 4.0 and up

Download size: 8.5 MB

Jetpack Joyride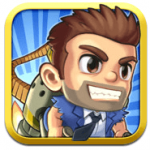 Jetpack Joyride  is a game that is more of an endurance style game in where the further you go the better you are at the game. The beauty of this game is that no two games are the same so you don't need to remember how you went through the last time. It will change up on you every time with the coins you are collecting in different places, the obstacles will be in random places, and even the backgrounds will change randomly too. After going through the game once and get your score, you will also notice that there are missions that you can do and progress in the game, and you even buy items in the store with the coins you collect. You also have your score on the leaderboard with your friends including receiving achievements via OpenFeint as you progress further in the game.
Version discovered: 1.3

Requires: iPhone/iPod Touch/iPad; iOS 3.1.3 and up

Download size: 19.7 MB

dotTechies: We have tested all the apps listed above. However, iOS Apps of the Day articles are not intended as "reviews" but rather as "heads-up" to help you discover new apps. Always use your best judgement when downloading apps, such as trying trial/free versions before purchasing paid apps, if applicable.
Related Posts