Today's Software
Starter: a convenient and quick program launcher
namebench: discover the quickest DNS server to decrease latency
NetWorx: keep an eye on your network speed and data usage
Subscribe to our Windows section to never miss an article: RSS Feed | E-mail
About Windows Software of the Day
Windows has hundreds of thousands of programs. Because of this great volume and lack of a central store, software discovery (aka finding new and useful programs) is extremely difficult. With our Windows Software of the Day initiative, dotTech aims to change that. Everyday we post three programs, allowing our readers to discover new software, daily. Enjoy! [Subscribe to our Windows section to never miss an article: RSS Feed | E-mail]
Developers: Click here to get your apps featured here!
dotTechies: Want to see an app on here? Send us a tip!
Software for April 26, 2012
Starter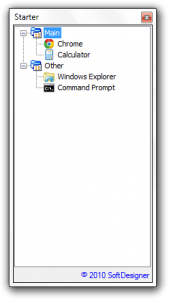 Want a quick, convenient starter that looks simple and takes up virtually no room? Try Starter. It's tiny, has separable categories, and has a timeless, easy to use starting interface. It's especially convenient if you have so many frequently used programs that they won't all fit on Windows' built-in taskbar.
The only pain that Starter brings is that of configuring it. Unfortunately, Starter can only be configured through everyone's favorite blast from the 90's past, an INI file. However, if you're comfortable with using a computer, it shouldn't be too hard to pick up, as the provided examples are very detailed.
Price: Free!
Version discovered: v1.1
Supported OS: Windows 9x/2000/XP/Vista/7
Download size: 120KB portable | 604KB installer
VirusTotal malware scan results: 0/42 portable | 0/43 installer
namebench
With the speed of internet connections today, it's not so much your download speed that counts all the time, it's the latency of your connections. Latency is the initial connection speed of a given connection. One source of latency is when your computer comes across a new domain and needs to connect to a DNS server to get the IP address.
While that's all very technical stuff that most people don't and shouldn't care about,  it can actually save you some time in the long run. namebench is a nice little tool for finding the fastest DNS servers.
Price: Free!
Version discovered: v1.3.1
Supported OS: Windows/Mac/Linux
Download size: 5.0MB
VirusTotal malware scan results:
NetWorx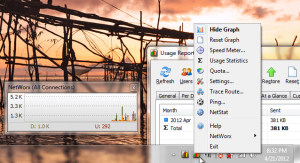 Do you have internet with a data limit? Don't risk overages or service shutoff by going over your limit – use NetWorx to monitor your usage. With its easy to read and quick to access reports on data usage, bandwidth speed, and things like ping time, NetWorx is a nice all-around tool for keeping your eye on your ISP.
One of NetWorx's main features is its ability to create reports. These reports can be daily, weekly, monthly, or even hourly, and can be exported into many different formats. And since NetWorx is a very low-memory tool, you don't have to worry about it always being running to monitor your bandwidth: it uses only around 10MB of memory while sitting idle.
Thanks Mike!
Price: Free!
Version discovered: v5.2.2
Supported OS: Windows 2000/XP/2003/Vista/7/2008
Download size: 3.0MB portable | 3.1MB installer
VirusTotal malware scan results: 0/42 portable | 0/42 installer
dotTechies: We have tested all the software listed above. However, Windows Software of the Day articles are not intended as "reviews" but rather as "heads-up" to help you discover new programs. Always use your best judgement when downloading programs, such as trying trial/free versions before purchasing shareware programs, if applicable.
Related Posts