Today's Apps
Subscribe to our Android section to never miss an article: RSS Feed | E-mail
About Android Apps of the Day
Android has over 450,000 apps. With so many apps out there, app discovery (aka finding new and useful apps) is extremely difficult. With our Android Apps of the Day initiative, dotTech aims to change that. Everyday we post three apps, allowing our readers to discover new apps, daily. Enjoy! [Subscribe to our Android section to never miss an article: RSS Feed | E-mail]
Developers: Click here to get your apps featured here!
dotTechies: Want to see an app on here? Send us a tip!
Apps for April 28, 2012
SMS Scheduler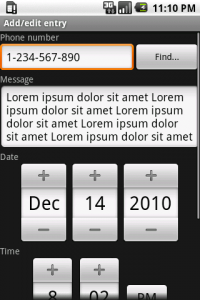 SMS Scheduler allows users to schedule SMS/text messages to be sent automatically at a predefined date and time. An SMS can be sent to one or multiple recipients; and it can be scheduled to be sent only once or reoccur (every X minutes, hours, every day, every fortnight, every month, every year and more). You can schedule as many SMS as you want and can have multiple SMS scheduled at a time; you aren't limited to only one SMS at a time.
SMS Scheduler has a 'History' feature which shows you a history of all sent SMS; sending and delivery task bar notifications are supported; and sent SMS are automatically inserted into conversation threads that you see in messaging apps.
Price: Free
Version discovered: v1.7
Requires: Android 1.6 and up

Download size: 142 KB
Android REDUCE
Created by an undergraduate student at the University of Cambridge, Android REDUCE is an algebraic calculator for Android. It is named Android REDUCE because it is based on the REDUCE algebra system. Android REDUCE provides all the standard math expressions and operations plus algebraic expressions and operations such as log, sin, cos, tan, square root, pi, limits, matrics, and more. Android REDUCE provides an on-screen history of operations you do, allowing you to not only view what you have done but also recall the operations by tapping on them.
Price: Free
Version discovered: v1.0
Requires: Android 2.2 and up

Download size: 3.2 MB
Kids Word World: Education
Kids Word World: Education is an app that helps kids learn English words and their spellings. The words in this game aren't simply three-letter words; so it isn't intended for very small kids. Rather, with words like 'schedule' and 'preschool', this app is intended more for elementary to middle school aged kids. What happens in this app is you are shown an image and given a bunch of letters. You must form the word for the image being shown out of the group of letters you are given. Whenever you tap on a letter, the letter is read out to you. Then when you successfully spell the word, the letters are again read out to you and the word is pronounced, too.
If you play in the easiest difficulty, you are given the spelling for the word in gray letters — all you have to do is drag and drop the letters in their proper places. Medium difficulty does not show the spelling for the word in gray letters but once you drop a letter in the proper place, it sticks there and cannot be removed indicating that the letter has been properly placed. The hardest difficulty provides no hints at all (no spelling in gray letters or sticky letters).
Price: Free
Version discovered: v1.0.2
Requires: Android 1.6 and up

Download size: 6.9 MB
Kids Word World: Education on Play Store
dotTechies: We have tested all the apps listed above. However, Android Apps of the Day articles are not intended as "reviews" but rather as "heads-up" to help you discover new apps. Always use your best judgement when downloading apps, such as trying trial/free versions before purchasing paid apps, if applicable.
Related Posts