Today's Software
Yawcam: stream and automatically capture images from your webcam
ProcessAlive: keep programs alive with a small and easy to use interface
myCurrent: keep Twitter and Facebook relegated to a small strip on the bottom of your screen
Subscribe to our Windows section to never miss an article: RSS Feed | E-mail
About Windows Software of the Day
Windows has hundreds of thousands of programs. Because of this great volume and lack of a central store, software discovery (aka finding new and useful programs) is extremely difficult. With our Windows Software of the Day initiative, dotTech aims to change that. Everyday we post three programs, allowing our readers to discover new software, daily. Enjoy! [Subscribe to our Windows section to never miss an article: RSS Feed | E-mail]
Developers: Click here to get your apps featured here!
dotTechies: Want to see an app on here? Send us a tip!
Software for April 28, 2012
Yawcam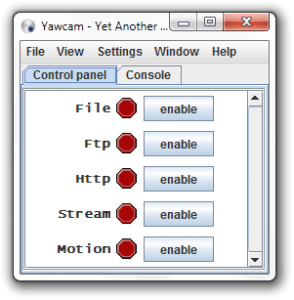 Want to automatically capture and stream webcam photos? Yawcam has you covered. It can automatically upload pictures to an FTP server, save files automatically, produce a webpage with a timed-update picture, or even stream video over HTTP.
Yawcam is quite easy to use, too. To stream with it, just enable pass-through on the required ports on your router and go to http://my.ip.x.x:port. For instance, if you're testing the connection, you might go to http://127.0.0.1:8081 to see a live stream.
Yawcam is awesome and very easy to use, especially for a piece of usually complicated streaming technology.
Thanks Terry!
Price: Free!
Version discovered: v0.3.7
Supported OS: Windows 2000+
Download size:  4.4MB
VirusTotal malware scan results: 0/37
ProcessAlive
A few days ago, we took a look at a program that let you automatically restart other programs if they got shut down. The only problem was, it was a very complicated program and had an unnecessarily complicated interface. ProcessAlive fixes this by making the process very smooth and easy to use.
The only issue I had with PA is that it made finding running programs complicated. It had no way to load a list of the currently running programs. However, this is just a minor issue; its built-in file browser makes selecting programs fairly easy so long as you know where to look.
ProcessAlive, in my testing, was also very fast at restarting programs. It's very useful if you need to keep a program open, especially if you are running a computer in display mode or otherwise need to keep something on top.
Price: Free!
Version discovered: v0.5
Supported OS: Windows unknown
Download size: 393KB
VirusTotal malware scan results: 0/42
MyCurrent
Want to browse Facebook and Twitter while you use your computer? Great, go to their websites. Try myCurrent. It's an extremely flexible Facebook and Twitter ticker that can keep you up to date when you want it and will easily shrink down when you don't care.
myCurrent isn't just a reader, either. It can also update your statuses as well. It's a nice well-rounded Facebook and Twitter client for those who don't want to have to constantly be paying attention.
Price: Free!
Version discovered: v1.0 beta
Supported OS: Mac OS X 10.6+/Windows XP, Vista, 7
Download size: 1.7MB
VirusTotal malware scan results: 0/42
dotTechies: We have tested all the software listed above. However, Windows Software of the Day articles are not intended as "reviews" but rather as "heads-up" to help you discover new programs. Always use your best judgement when downloading programs, such as trying trial/free versions before purchasing shareware programs, if applicable.
Related Posts