Today's Apps
SanDisk Memory Zone [Backup SD card/internal storage files to memory/SD card or to online cloud storage services]
AppUsage [Monitors how much time is spent using individual apps]
Elemental [Game]
Subscribe to our Android section to never miss an article: RSS Feed | E-mail
About Android Apps of the Day
Android has over 450,000 apps. With so many apps out there, app discovery (aka finding new and useful apps) is extremely difficult. With our Android Apps of the Day initiative, dotTech aims to change that. Everyday we post three apps, allowing our readers to discover new apps, daily. Enjoy! [Subscribe to our Android section to never miss an article: RSS Feed | E-mail]
Developers: Click here to get your apps featured here!
dotTechies: Want to see an app on here? Send us a tip!
Apps for May 1, 2012
SanDisk Memory Zone
SanDisk Memory Zone is essentially a SD card/internal storage files manager. The main function of SanDisk Memory Zone is the ability to to backup/restore files stored on internal storage/SD card. Files can be backed up to – and restored from – memory/SD card or online cloud storage services of Dropbox, Box, Google Docs, Picasa, SugarSync, and/or Facebook. Once files are backed up, you can restore those files to the same Android device or a different Android device. If you backed up to a memory/SD Card, inserting the memory/SD card in the other device allows you to restore the files (after you have installed SanDisk Memory Zone on that other device); or, if you backed up to a cloud storage service, all you have to do is download SanDisk Memory Zone on the other Android device, log into the cloud storage service, and restore your files.
In addition to backup/restore functionality, SanDisk Memory Zone has a file built-in manager/explorer and the ability to password protect individual files so that they cannot be accessed until you protect them using your password.
And, yes, this app is created by the company that makes SanDisk memory cards.
Price: Free
Version discovered: v1.2.6
Requires: Android 2.2 and up

Download size: 2.1 MB
SanDisk Memory Zone on Play Store
AppUsage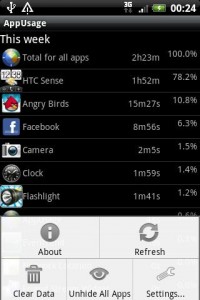 AppUsage is an app that monitors how long you spend using each individual app. It measures active usage (i.e. you run an app yourself) and background usage (i.e. apps that open themselves in the background). App usage can be shown for today, last week, last month, since installing AppUsage, or any date range you specify. Clicking on an app name in AppUsage allows you to see information such as date and time installed, uninstall, first launched, and last launched; total launches; and total time. You can also select to 'Hide' the app or mark it as 'Fave'; uninstall the app; or launcher the app. Via 'Settings' you can filter how apps are shown by checking/unchecking options such as showing apps with no launches, hiding system apps, and hiding uninstalled apps.
AppUsage is free and requires users to enter their gender and year of birth before AppUsage can be used. AppUsagePro is paid and can be used without entering gender/year of birth.
Price: Free, $1.49
Version discovered: v1.3.5
Requires: Android 1.5 and up

Download size: 144 KB
AppUsage on Play Store | AppUsagePro on Play Store
Elemental
Elemental is a Sudoku-like game for Android — except it uses elements, not numbers. The goal of Elemental is to complete each puzzle using the elements you are given (you start off with four elements but this increases to five later on). The catch is, similar to Sudoku, you cannot repeat the same element in a row and column. So you have to complete each puzzle by strategically placing the elements in such a way that you fill the board yet don't repeat the same element in a row and column. If you are stuck and are not sure how to complete the puzzle, you can use tips which help you determine which elements belong where and a 'Spell' button which gives you a element spot for free. However, before using tips and the 'Spell' button, keep in mind the more tips you use and the more times you use the 'Spell' button the less points you get.
Elemental is a free, ad-supported app. If you want to remove the ads you can make an in-app purchase for $0.99.
Price: Free, $0.99
Version discovered: v1.2.5
Requires: Android 2.1 and up
Download size: 15 MB
dotTechies: We have tested all the apps listed above. However, Android Apps of the Day articles are not intended as "reviews" but rather as "heads-up" to help you discover new apps. Always use your best judgement when downloading apps, such as trying trial/free versions before purchasing paid apps, if applicable.
Related Posts