Today's Software
Wise Folder Hider: hide sensitive information from prying eyes
Antifreeze: temporarily halt all processes to allow you to kill CPU/memory hogs
Drop Zone: copy/move files to specified directories without messing around with Windows Explorer's drag-n-drop implementation
Subscribe to our Windows section to never miss an article: RSS Feed | E-mail
About Windows Software of the Day
Windows has hundreds of thousands of programs. Because of this great volume and lack of a central store, software discovery (aka finding new and useful programs) is extremely difficult. With our Windows Software of the Day initiative, dotTech aims to change that. Everyday we post three programs, allowing our readers to discover new software, daily. Enjoy! [Subscribe to our Windows section to never miss an article: RSS Feed | E-mail]
Developers: Click here to get your apps featured here!
dotTechies: Want to see an app on here? Send us a tip!
Software for May 4, 2012
Wise Folder Hider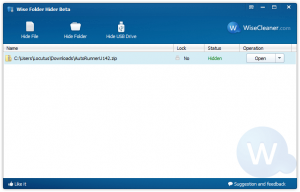 Do you let people use your computer while you have sensitive data? If you do, you're putting yourself at a big risk. For instance, they could inadvertently or purposefully stumble across banking information, or worse, confidential client information. Don't let this happen to you: use Wise Folder Hider to hide both files and folders.
To hide a folder or file, you can simply use the context menu item in Windows Explorer. To show a file, however, takes slightly more work: you'll have to open up Wise Folder Hider's main interface and type in your password (set up on first use) to even just list them. In fact, to unhide them, you'll need to type in a secondary password!
You can also hide thumb drives. To do that, just open the main interface and select Hide USB Drive. From there, select your drive. You're good to go! With Wise Folder Hider, all of your potentially sensitive data can be safely hidden from sight.
Price: Free!
Version discovered: v1.16Beta
Supported OS: Windows XP/Vista/7
Download size: 1.8MB
VirusTotal malware scan results: 0/42
Portable version available? No
Antifreeze
We all know what antifreeze is. It's a liquid designed to keep water from freezing so it doesn't damage things like your car engine. Likewise, Antifreeze is software for your computer that lets you keep it running without freezing. When you are in dire need for its assistance (ie, your computer is freezing up), just press ALT+CTRL+WIN+HOME. A box such as the one to the right will appear on your screen.
When this happens, it'll automatically pause all of the non-critical applications running and allow you to permanently stop all processes hogging either the memory or your CPU. When you're done ending processes, you can simply exit Antifreeze to continue using all of the programs you didn't forcefully end.
Antifreeze is a very good idea, and though my computer doesn't freeze up much, it seems like it could come in handy soon.
Note: it's been reported that Antifreeze may also freeze when your system is frozen. In these cases the only thing you can do is wait it out.
Price: Free!
Version discovered: v1.0.1
Supported OS: Windows XP+
Download size: 815KB
VirusTotal malware scan results: 0/42
Portable version available? No
Drop Zone
Need to quickly move a lot of files to one location? Good luck using Windows Explorer. You'll have to guess as to whether it'll copy, move, or what all else when you drag files into another folder — and that's if you can find a safe place to plant them. Use Drop Zone instead: after configuration, you'll have a little square that can either move or copy files to certain directories — even allowing you to choose one of multiple directories.
There's really not much more to Drop Zone. It's a simple little tool to make moving/copying things as easy as possible, and it does that with seeming ease.
Price: Free!
Version discovered: v1.0.3
Supported OS:
Download size: 721KB
VirusTotal malware scan results: 0/43
Portable version available? Yes!
dotTechies: We have tested all the software listed above. However, Windows Software of the Day articles are not intended as "reviews" but rather as "heads-up" to help you discover new programs. Always use your best judgement when downloading programs, such as trying trial/free versions before purchasing shareware programs, if applicable.
Related Posts