Today's Software
Subscribe to our Windows section to never miss an article: RSS Feed | E-mail
About Windows Software of the Day
Windows has hundreds of thousands of programs. Because of this great volume and lack of a central store, software discovery (aka finding new and useful programs) is extremely difficult. With our Windows Software of the Day initiative, dotTech aims to change that. Everyday we post three programs, allowing our readers to discover new software, daily. Enjoy! [Subscribe to our Windows section to never miss an article: RSS Feed | E-mail]
Developers: Click here to get your apps featured here!
dotTechies: Want to see an app on here? Send us a tip!
Software for May 21, 2012
Blockify
Spotify is a wonderful service, providing free, unlimited music to anyone who wants it. However, it comes with a caveat: free, unlimited ads every so often. This isn't necessarily a bad thing—it's what keeps the service free—but it can detract from the listening experience if a Red Hot Chili Peppers ad comes on right after Adagio for Strings.
Blockify can fix that right up for you. It allows you to automatically mute ads whenever they start on Spotify and unmute when the music starts again. And, if you aren't a fan of 15-45 seconds of silence, it also allows you to play a custom MP3—perhaps something from Red Hot Chili Peppers—during the mute period.
Note: if Blockify crashes due to a DLL error when you first open it, run the included vcredist_x86.exe installer.
Price: Free!
Version discovered: v0.3 alpha
Supported OS: Windows XP+
Download size: 5.3MB
VirusTotal malware scan results: 1/42
Portability: Entirely portable!
Spartan Multi Clipboard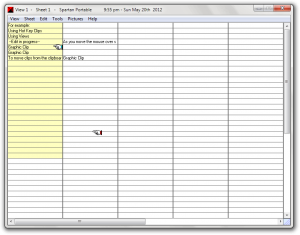 Windows' built-in clipboard management is pretty terrible. It lets you store only one thing, and one thing only. You also can't see what's in your clipboard without pasting it and potentially messing up your formatting.
Spartan fixes just about everything wrong with the Windows clipboard. It lets you store a rotating set of the latest 25 copied items, as well as as many items as you want permanently — and not just text, but graphics, unlike some clipboard managers.
It also has some features that make it uniquely designed for humans. They're the little things: when you copy a link, you can click a button in the clipboard management screen to go to it. If you copy graphics, you can see them in a small preview window. It also lets you use basic editing features for graphical clips, though they're not terribly useful.
The only annoying thing about Spartan is really its preview window. This window, which is forever present when your mouse is over the clipboard manager, jumps around the screen so that it's not hiding what your mouse is over. It's nice in theory, but in practice isn't very nice, as it tends to do a lot of random jumping.
However, in total, Spartan is quite nice. You can tell a lot of work went into making it not just usable, but useful, and that's a refreshing step back from a lot of software. There are rough corners, and the interface looks like it was designed in 2005, but if you're looking for a heavily-featured clipboard manager that works well, Spartan is the one for you.
Price: $29.99 for single license, bulk sets available
Version discovered: v8.00
Supported OS: Windows 98+
Download size: 4.6-4.8 MB
VirusTotal malware scan results: x/42 installer | x/42 portable | 0/40 U3 
Portability: Installer, portable, and U3 versions available
Spartan Multi Clipboard homepage
DriveShortcut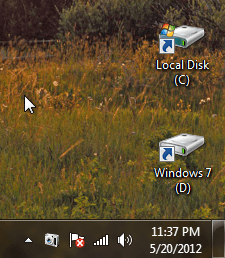 Want to have easy access to all of your drives on your Desktop? Need to quickly access your thumb drive? Use DriveShortcut to add shortcuts to your various drives as soon as you insert them into your computer.
Setting up DriveShortcut is as easy as can be. You can set it to show thumb drives, CD/DVD drives, hard drives, networked drives, RAM drives, or any combination of those. You can also set it to remember where you place icons; if you don't, each time you remove and re-attach your thumb drive the icon will move.
All in all DriveShortcut is nice and simple?–and that's just what it needs to be.
Price: Free!
Version discovered: v1.1.0
Supported OS: Windows XP+
Download size: 2.0MB
VirusTotal malware scan results: 0/41
Portability: Requires installation
dotTechies: We have tested all the software listed above. However, Windows Software of the Day articles are not intended as "reviews" but rather as "heads-up" to help you discover new programs. Always use your best judgement when downloading programs, such as trying trial/free versions before purchasing shareware programs, if applicable.
Related Posts