Software Description
This giveaway is for AOMEI Partition Assistant Pro v5.0. The following is what's new in AOMEI Partition Assistant Pro v5.0: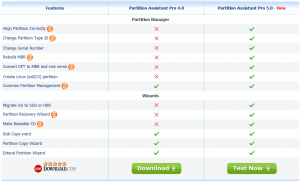 The following is a description of what was already in AOMEI Partition Assistant Pro v4.0, as per the developer:
Basic Partitioning Features

Create partitions
Format partitions
Delete partitions
Assign drive letters
Remove drive letters
Hide partitions
Unhide partitions
Mark a partition as active
Change partition volume labels
Check file system integrity
Check disk bad sectors
Permanently wipe disk data
Convert file system
Clear system disk

Advanced Partitioning Features

Hot resize system partition without work interruption
Resize partition to optimize disk space management
Move partition from one location to another
Merge partitions into a larger one
Split partition into two or more partitions
Merging non-continuous unallocated space to partition is available
Allocate free space from one partition to another for effective use of storages
Create partition as you wish although there is no unallocated space
Convert Primary partition to logical partition and vice versa
Extend partition to increase the capacity
Shrink partition to release more unallocated space
Redistribute free space to create new partition
Extend partition wizard step-by-step help you
Repartition without data loss
Wipe hard drive and wipe partition
Copy disk: allows you to transfer all data and application from one disk to another
Copy partition: enables you to backup or clone partition to a new location
dotTech Advice
AOMEI Partition Assistant is a nice partition manager. It also has the ability to copy partitions from one place to another, even across drives, and weighs in at under 3MB. However, as Ashraf touched on a little under six months ago, was missing some fairly regular features until fairly recently:
That said, Partition Assistant offers the basics and nothing more. Rival partition managers, such as EASEUS Partition Master and Paragon Software's partition managers, offer more features than Partition Assistant, albeit at the cost of having to download larger files. Most notably, Partition Assistant works with only NTFS/FAT/FAT32 file systems — no support for Linux or Mac partitions; and Partition Assistant has no ability to great a recovery disc, neither WinPE or Linux-based. Personally speaking, if I were to pick between between Aomei Partition Assistant and EASEUS Partition Master or a Paragon partition manager, I'd pick one of the latter two. (It should be noted free/home editions of EASEUS and Paragon products cannot be used for commercial/non-home use.)
However, in version 5.0 AOMEI has fixed that to some degree. It brings support for ext2 and ext3 partitions, which are used by many Linux systems. It still doesn't support ext4, which is the newest type of Linux partition, or HFS+, the standard Mac OS X partition type.
All together, AOMEI Partition Assistant isn't bad, but it's not the most amazing and featureful partition manager. Also of note, however, is that there's really not much of a difference between APA Home and Professional: the only listed differences are preferential support and "workstation support".
Freebie Details
AOMEI Partition Assistant Professional is being given out by AOMEI for testing purposes until next Monday, May 28, 2012. However, as thanks for testing, they'll give everyone who tests APAP v5.0 a free license for Partition Assistant.
Here's some information about the giveaway:
Version being given away: v5.0

Free updates: probably
Free technical support: probably

Supported OS: Windows 2000+
Download size: 2.9MB – 0/42
First, download and install AOMEI Partition Assistant "Preview" Edition v5.0. After installation, open it and you'll see a small box in the lower right corner: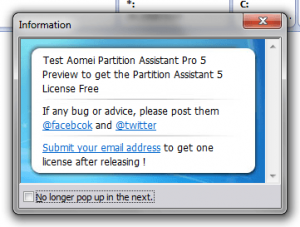 Click the Submit your email address link to open Internet Explorer. You'll be taken to a page asking you to type your email: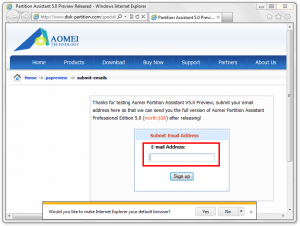 As soon as you sign up, you'll get an email telling you you'll receive your license as soon as they release v5.0:

If you have trouble getting Aomei Partition Assistant Professional or Preview Edition for free, post below and other dotTechies or I will try to help.
Related Posts