Today's Software
DXPurge: clean up after Mac OS X's file littering and create ZIPs with drag and drop
Proto: browse files with an insanely fast keyboard-only file browser
Falco GIF Animator: create and edit GIF files
Subscribe to our Windows section to never miss an article: RSS Feed | E-mail
About Windows Software of the Day
Windows has hundreds of thousands of programs. Because of this great volume and lack of a central store, software discovery (aka finding new and useful programs) is extremely difficult. With our Windows Software of the Day initiative, dotTech aims to change that. Everyday we post three programs, allowing our readers to discover new software, daily. Enjoy! [Subscribe to our Windows section to never miss an article: RSS Feed | E-mail]
Developers: Click here to get your apps featured here!
dotTechies: Want to see an app on here? Send us a tip!
Software for May 31, 2012
DXPurge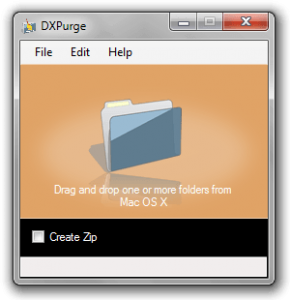 Do you use a Mac? They're quite nice! However, they have a very annoying habit that crops up whenever you want to copy a folder from a Mac to a PC. It always leaves DS Store files and other random files that are generally supposed to be hidden. While not really the worst in the world, it can be a bit annoying, and if you're looking for a way to get rid of those files, DXPurge is your tool.
DXPurge is simple. To use it, you just drag the folder that you copied from Mac OS X onto DXPurge and it cleans it up. And, if you're looking to compress the files so you can send them somewhere, it also has the optional ability to create a ZIP folder when it's done cleaning.
DXPurge isn't the fix to the world's biggest annoyance, but cross-system cleanup is generally a pain. The easier it is, the better, and DXPurge takes half of the difficulties away!
Price: Free!
Version discovered: v1.0.0b
Supported OS: Windows 7 x64
Download size: 2.7MB
VirusTotal malware scan results: 0/42
Portability: Installation required
Proto
Need to browse your files insanely quickly? Don't start up Windows Explorer. Even with the keyboard, it's a hassle to get exactly what you want. Instead, open up Proto. It's entirely keyboard based, and has smart filename matching algorithms that allow it to expand partial names like s32 into full names like system32.
Proto allows you to do just about anything. Browsing files is as quick as typing in a part of their names, and it supports MP3 tags and regex so you can never stop getting better at searching. It lets you quickly convert images to various formats, as well as instantly copy a file to the clipboard. You can check out the full list of commands here.
Price: Free!
Version discovered: v0.6.9.7
Supported OS: Windows XP+ w/ .NET 4.0 Framework
Download size: 3.5MB
VirusTotal malware scan results: 0/42
Portability: Entirely portable!
Falco GIF Animator
Want to create your own GIFs? There are lots of pieces of software out there that let you do this, and one of them is Falco GIF Animator. You can either draw each from scratch, or you can create a chain of imported images such as screenshots. It also lets you do some basic effect editing with them, such as soft glows, masks, noise reduction, and more.
Falco's really not the most amazing piece of software. It's hard to use and comes bundled with bloatware, and it's not even useful and wouldn't be even if it was easy to use. However, some people like to create GIFs, and without expensive tools like Photoshop, there aren' t many ways to do so. For people like that, Falco is worth a shot.
Note: be sure to deselect Babylon Toolbar and other bundleware when installing FGIFA.
Price: Free!
Version discovered: v3.9
Supported OS: Windows 98, XP+
Download size: 22.79MB
VirusTotal malware scan results: 1/42
Portability: Requires installation
dotTechies: We have tested all the software listed above. However, Windows Software of the Day articles are not intended as "reviews" but rather as "heads-up" to help you discover new programs. Always use your best judgement when downloading programs, such as trying trial/free versions before purchasing shareware programs, if applicable.
Related Posts