Today's Software
Subscribe to our Windows section to never miss an article: RSS Feed | E-mail
About Windows Software of the Day
Windows has hundreds of thousands of programs. Because of this great volume and lack of a central store, software discovery (aka finding new and useful programs) is extremely difficult. With our Windows Software of the Day initiative, dotTech aims to change that. Everyday we post three programs, allowing our readers to discover new software, daily. Enjoy! [Subscribe to our Windows section to never miss an article: RSS Feed | E-mail]
Developers: Click here to get your apps featured here!
dotTechies: Want to see an app on here? Send us a tip!
Software for June 8, 2012
Hide Folders
People using your computer is a big security risk. They can not only accidentally download something bad, they can also peek at your private files, which is totally uncalled for. If you store sensitive information on your computer, it's best to encrypt and hide it. You can get the hiding part done with Hide Folders.
With Hide Folders, you can hide sensitive folders from the simple interface. To do that, just open the main interface and select Add Folder. From there, select your folder. You're good to go! With Hide Folders, all of your potentially sensitive data can be safely hidden from sight.
Price: Free!
Version discovered: v2.5
Supported OS: Windows unknown
Download size: 2.4MB
VirusTotal malware scan results: 0/42
Portability: Requires installation
ImageHide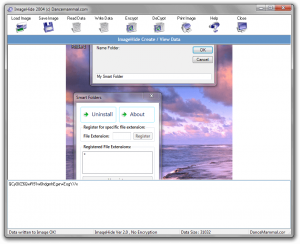 Have you heard of steganography? It's a very cool technique to hide information from one file inside of another file in a way that obscures that it's even there. It's common to, for instance, hide an encrypted text document inside of an image file, as the large size of the image file makes up for the increased filesize.
ImageHide is quite easy to use. You simply click the buttons in order: open a picture, click Encrypt, type/paste the data in, click Encrypt again, type in a password, click Close, and lastly write data. Now, when you send the modified image to a friend, they'll never suspect the existence of the hidden message. You can use this to do things like share sensitive information, as it uses the relatively secure RC4 encryption method along with some simple hashing.
Price: Free!
Version discovered: v2.0
Supported OS: Windows 
Download size: 530KB
VirusTotal malware scan results: 0/42
Portability: Entirely portable!
Auto Screenshot
Want to keep track of your computer usage? You may want to consider Auto Screenshot, a free program that takes screenshots on a given interval. If you're managing a coffee shop, you can use it on your internet-connected computers; if you're an avid procrastinator, you can use it to go back in time and see how you procrastinated (while still procrastinating).
Auto Screenshot is a nice little program.  After choosing the location and interval of screenshots, you can change the quality and the hiding setting. If you want to, you can have AS automatically hide itself whenever you start it up, leaving it perfectly hidden that you're monitoring everything.
Auto Screenshot is a very nice tool for taking screenshots every given interval of time, and is quite useful.
Note: upon installation, a second window will pop up asking for you to install a toolbar and a Google Chrome extension. Simply click decline on these screens to continue.
Price: Free!
Version discovered: v1.0
Supported OS:
Download size: 407KB
VirusTotal malware scan results: 0/43
Portability: Requires installation
dotTechies: We have tested all the software listed above. However, Windows Software of the Day articles are not intended as "reviews" but rather as "heads-up" to help you discover new programs. Always use your best judgement when downloading programs, such as trying trial/free versions before purchasing shareware programs, if applicable.
Related Posts