Today's Apps
First Aid [App that gives tips on how to recognize and treat common health situations]
Simple Scoreboard [Helps keep track of player scores for games where you must manually track scores]
Dog Whistle [App that plays 7 kHz, 10 kHz, 15 kHz, and 19 kHz frequency whistles for dog training]
Subscribe to our Android section to never miss an article: RSS Feed | E-mail
About Android Apps of the Day
Android has over 450,000 apps. With so many apps out there, app discovery (aka finding new and useful apps) is extremely difficult. With our Android Apps of the Day initiative, dotTech aims to change that. Everyday we post three apps, allowing our readers to discover new apps, daily. Enjoy! [Subscribe to our Android section to never miss an article: RSS Feed | E-mail]
Developers: Click here to get your apps featured here!
dotTechies: Want to see an app on here? Send us a tip!
Apps for June 10, 2012
First Aid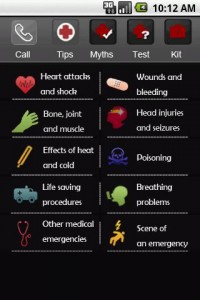 Ever found yourself in a first aid situation and having absolute no clue as to what you need to do to help the person in trouble? First Aid is an app that can help. First Aid provides tips on how to deal with common health situations across ten categories: 'Heart attacks and shock', 'Wounds and bleeding', 'Bone, joint and muscle', 'Head injuries and seizures', 'Effects of heat and cold', 'Poisoning', 'Life saving procedures', 'Breathing problems', 'Other medical emergencies', and 'Scene of an emergency'. Each category breaks further down into specific scenarios such as 'Heart Attack", 'Nose Bleeding', 'Shock', 'Heat Stroke', and more. For each specific situation a short description is provided along with steps on how to recognize and treat, too; some even have videos (Youtube videos) and embedded images.
Other than tips on how to deal with health situations, First Aid bunks health myths in its 'Myths' section and has a 'Test' section to test your knowledge on diagnosing and treating these common health situations.
Note: As I am not a doctor, I cannot verify the validity of the tips provided in this app. You should always attempt to consult a health care professional in health situations.
Price: Free
Version discovered: v2.0.3
Requires: Android 1.5 and up

Download size: 3.5 MB
Simple Scoreboard
Ever play games with friends where you have to manually keep score, such as card games? It can often be a pain to find pen and paper to keep track of scores. That is where Simple Scoreboard comes in.
Simple Scoreboard is a simple app for keep track of scores while playing games. To use Simple Scoreboard all you do is add each player to the app (players are color coded to help differentiate and you have the option for setting names for each player) and input scores for each player as they earn them. Simple Scoreboard has no preset scoring system — you manually add any numerical score for each player you wish; Simple Scoreboard keeps track of each score you input for a player and displays a total, giving you the option undo/redo individual entries or reset all scores.
Simple Scoreboard includes the ability to save scores and load them at a later date, for situations where you stop play with the intention to restart play at a later time. Take note, however, Simple Scoreboard can only store one saved game at a time — each time you save a game it automatically overwrites the data of the previously saved game.
Price: Free
Version discovered: v1.2
Requires: Android 2.1 and up

Download size: 84 KB
Simple Scoreboard on Play Store
Dog Whistle
Dog Whistle is an app that allows users to play dog whistle sounds. The app plays dog whistles at 7 kHz, 10 kHz, 15 kHz, and 19 kHz frequencies. The app is extremely easy to use; all you do is run it and tap the button of the whistle you want to play and the app plays that sound; holding a button continually plays the sound.
For those of you that like widgets, Dog Whistle has a 2×3 homescreen widget from where you can quickly play dog whistle sounds right from your homescreen. Take note, however, you can't hold the buttons on the widget — you can only tap them after which the sounds are played for a short interval.
Price: Free
Version discovered: v2.21
Requires: Android 1.0 and up

Download size: 1.3 MB
dotTechies: We have tested all the apps listed above. However, Android Apps of the Day articles are not intended as "reviews" but rather as "heads-up" to help you discover new apps. Always use your best judgement when downloading apps, such as trying trial/free versions before purchasing paid apps, if applicable.
Related Posts