Today's Software
Subscribe to our Windows section to never miss an article: RSS Feed | E-mail
About Windows Software of the Day
Windows has hundreds of thousands of programs. Because of this great volume and lack of a central store, software discovery (aka finding new and useful programs) is extremely difficult. With our Windows Software of the Day initiative, dotTech aims to change that. Everyday we post three programs, allowing our readers to discover new software, daily. Enjoy! [Subscribe to our Windows section to never miss an article: RSS Feed | E-mail]
Developers: Click here to get your apps featured here!
dotTechies: Want to see an app on here? Send us a tip!
Software for June 21, 2012
WeatherPaper
I wonder what the weather is? I'll just look at my desktop background. With WeatherPaper, you too can live in the future: a future where weather is everywhere, a future where I can find the weather on my desktop background.
WeatherPaper has absolutely no GUI configuration. Once you run it, your desktop background will automatically be changed into a nice weather icon, along with a short description, the temperature, and time. To get your location, and perhaps your unit, you'll need to configure it by opening %APPDATA%\WeatherPaper\settings.cfg in a program like Notepad++. You can set your location, your unit, your screen res, the refresh, and more.
Once you've got WeatherPaper all set up, it's a beautiful background and is entirely unobtrusive.
Price: Free!
Version discovered: v0.1.6
Supported OS: Windows XP+/OS X/Linux
Download size: 3.6MB
VirusTotal malware scan results: unavailable
Portability: Requires installation
DocFetcher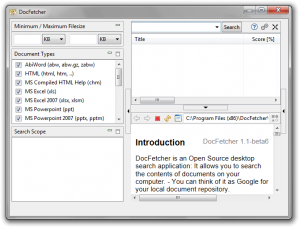 Windows 7 includes a much-improved search engine, but it's still not perfect. It's slow, and it doesn't even seem to work a large amount of the time. Skip Windows search entirely with DocFetcher, a free search engine that describes itself as "Google for your local document repository".
DocFetcher lets you index both large and small areas, and even inside files. It supports HTML, TXT, PDF, Word/Excel/PowerPoint, OpenOffice.org, RTF, AbiWord, CHM, Visio, and SVG. All in all, DocFetcher supports a nice set of files, and a quite large featureset in general. It's a great program if you're looking for something other than Windows' built in search.
Price: Free!
Version discovered: v1.1b6
Supported OS: Windows/OS X/Linux
Download size: 32.5MB
VirusTotal malware scan results: N/A — too large
Portability: Portable version available!
DropIt
Organizing your files? Good on you! It's a task we should all do more often. However, it's annoying to do, especially because you have to keep a thousand windows open at once to do anything intelligently. DropIt solves all of this by letting you manage your files with a simple drop zone.
You can easily configure DropIt so that when you drop items on it, they're moved, copied, compressed, extracted, renamed, deleted, opened, copied to your clipboard, and more. It also lets you set up certain rules based on things like filetype, allowing you to move all PNGs while copying all JPGs. It's a nice and useful tool, and since it's portable, it's easy to get rid of when you're done.
Price: Free!
Version discovered: v4.0.1
Supported OS: Windows
Download size: 2.1-2.3MB
VirusTotal malware scan results: unavailable
Portability: Portable version available!
dotTechies: We have tested all the software listed above. However, Windows Software of the Day articles are not intended as "reviews" but rather as "heads-up" to help you discover new programs. Always use your best judgement when downloading programs, such as trying trial/free versions before purchasing shareware programs, if applicable.
Related Posts