Today's Software
Subscribe to our Windows section to never miss an article: RSS Feed | E-mail
About Windows Software of the Day
Windows has hundreds of thousands of programs. Because of this great volume and lack of a central store, software discovery (aka finding new and useful programs) is extremely difficult. With our Windows Software of the Day initiative, dotTech aims to change that. Everyday we post three programs, allowing our readers to discover new software, daily. Enjoy! [Subscribe to our Windows section to never miss an article: RSS Feed | E-mail]
Developers: Click here to get your apps featured here!
dotTechies: Want to see an app on here? Send us a tip!
Software for June 22, 2012
CodecInstaller
Does your favorite media file not play on your brand new computer? That certainly sounds like a codec issue. However, you still need to find the proper codec. That's where CodecInstaller comes in: you can just use its Analyze File function to quickly determine what's missing. It'll also show information about the file, such as bitrate and copyright information.
CodecInstaller also, of course, lets you install codecs. When you choose the install option, it presents you with a list of available and installed codecs. If you come across one you don't already have installed, it's super easy to install: just click the download button.
CodecInstaller is the solution to an age-old problem that few people have anymore. It's nice, but won't really be of too much use, as Windows generally contains all the necessary codecs anyway. But it's still useful for those one or two instances that you don't have the proper codec installed and can't find it.
Note: CodecInstaller has a bundled toolbar! Be sure to keep a close eye while installing.
Price: Free!
Version discovered: v2.10.04
Supported OS: Windows 2000+
Download size: 3.1MB
VirusTotal malware scan results: 0/42
Portability: Requires installation
System Explorer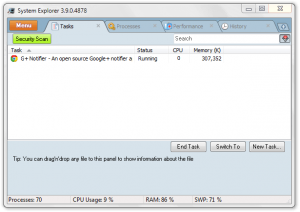 Want to view information about your running tasks, processes, and performance? Look no further than System Explorer, a free tool from, well, System Explorer. It lets you see child processes and much much more about normal system tasks.
System Explorer gives detailed information about just about any program. For instance, if you click on Chrome, it can tell you the company, the location, and even how secure it thinks a given file is. This is especially helpful if you don't know what a given executable is for.
System Explorer is a nice utility for viewing general process information, and is a nice tool for anyone's USB toolkit.
Price: Free!
Version discovered: v3.9.0
Supported OS: Windows XP+
Download size: 2.0MB
VirusTotal malware scan results: unavailable
Portability: Portable version available!
G+ Notifier

Do you use Google+? I actually do, and it's a nice little network. However, if I'm ever not logged into my email or my RSS feeds, it can be hard to see how many notifications I have, and what they all are. G+ Notifier solves this issue by putting notifications in your Windows system tray.
When new notifications are found, it'll play the classic Windows beep, and when you click its notification, you'll be presented with the full notifications view. From there, you can easily open your browser or clear the notification.
G+ Notifier is nice for those people that use Google+, and as a user, I rather like it.
Price: Free!
Version discovered: v1.10
Supported OS: Windows unknown
Download size: 10.1-10.5MB
VirusTotal malware scan results: unavailable
Portability: Portable version available!
dotTechies: We have tested all the software listed above. However, Windows Software of the Day articles are not intended as "reviews" but rather as "heads-up" to help you discover new programs. Always use your best judgement when downloading programs, such as trying trial/free versions before purchasing shareware programs, if applicable.
Related Posts