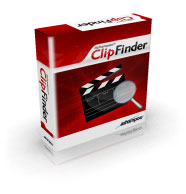 Update: New Ashampoo ClipFinder version (HD v2.01) is out with new features and a new look. Click here for more details.
Doing my usual reconnaissance of the internet I stumbled upon a free software that acts like a search engine for 14 popular video hosting websites. You can either search all the websites at once with one query or you can run individual searches for each website. The videos you find can be played right inside the program so you never have to even open your browser. You also have the ability to download the video you are viewing if you wish to do so. All this for free. Yes free (do I ever advocate non-free programs? =P). However, you will have to register to get your CDKEY – but all registration requires is a valid email address. But be warned, don't use your main email address because Ashampoo spams. A lot. Update: Ashampoo blocks Hotmail email addresses so you must use an alternative – Hotmail won't work!
The video hosting websites that this program can search are:
YouTube.com
iFilm.com (aka Spike.com)
Veoh.com
Dailymotion.com
Video.Google.com
Livevideo.com
Blip.tv
Video.Yahoo.com
Metacafe.com
Vids.MySpace.com
Sevenload.de
MyVideo.de
VideU.de
ClipFish.de
At first I was skeptical about this program – then I used it. Now I am a believer. The program I have been talking about this whole time is Ashampoo ClipFinder: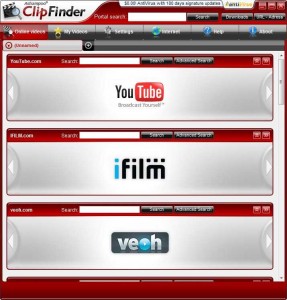 Here is a screenshot of the all video hosts listed in order that ClipFinder displays them:

Don't worry if you don't like the order of video hosting websites – you can customize the order as you please. For example, you can put video.google.com at the very top so you don't have to scroll down to view it every time. You can do this via Settings.
Anyway, to find videos, just type in your search query in the "Portal search" box and hit "Search". ClipFinder will then search all the video hosting websites mentioned above and display them for you: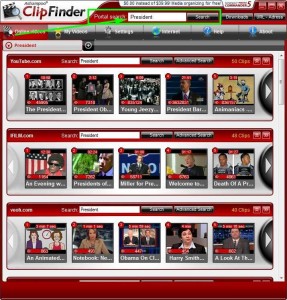 As ClipFinder finds more videos relating to your search query it will keep adding to the list (you will see the number "## Clips" going up). You can scroll through the video via the left and right arrows.
If you hold your mouse over a video, the video will start playing in that small box like a preview. To view the video just double click on it. The video will then start playing in the built in ClipFinder media player: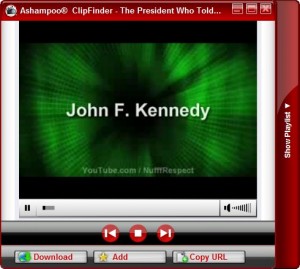 In addition to watching the video, you can download the video (video will download to your Documents if you are in Vista and probably My Documents if you are in XP), add it to a playlist, or copy the url of the video. Unfortunately you can't view the video in full screen mode – the best you can do is maximize the ClipFinder window. To view the videos in full screen mode, double click on the video and the video will be opened in your browser on the video hosting website. From there you can view it in full screen.
If there is a video hosting service that you just dislike or don't want to search, you can 'minimize' that video hosting service and prevent ClipFinder from searching it by clicking on the

button. Additionally, if there is a video service that you really like, or would like to specifically just search that video service, clicking on the

button will give you a dedicated view of that video hosting service: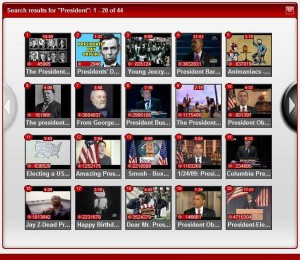 If you are the type of people who like to search for a video, then search for another one but leave the search for the video of the first still open (i.e. having lots of tabs open while surfing the web), ClipFinder also has a tabbed interface which you can use to leave multiple searches open at once:

If you would just like to download a specific video from a specific URL and would rather not mess with having to search for it, you can also use ClipFinder to do that. Just click on "URL – Adress" and paste in your URL and start downloading. The video will download to your Documents in Vista and probably My Documents folder in XP:

While this program is fairly simple, there are a few settings you can change around: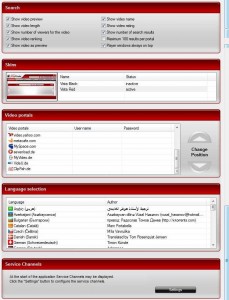 Lastly, in case you or someone you know does not speak English, this program can be run in multiple different languages: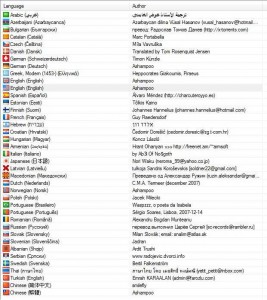 Still interested? You can download Ashampoo ClipFinder from Download.com.
Related Posts