Today's Software
Subscribe to our Windows section to never miss an article: RSS Feed | E-mail
About Windows Software of the Day
Windows has hundreds of thousands of programs. Because of this great volume and lack of a central store, software discovery (aka finding new and useful programs) is extremely difficult. With our Windows Software of the Day initiative, dotTech aims to change that. Everyday we post three programs, allowing our readers to discover new software, daily. Enjoy! [Subscribe to our Windows section to never miss an article: RSS Feed | E-mail]
Developers: Click here to get your apps featured here!
dotTechies: Want to see an app on here? Send us a tip!
Software for July 2, 2012
ClickOff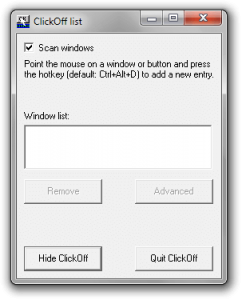 Are you sure you want to do this? Do you want to continue? Are you really annoyed by programs asking questions to double-check your choices? If you answered yes to all three of those questions, ClickOff might be for you. If you're constantly telling one or two programs to quiet themselves down and stop second guessing you, ClickOff will automatically click them for you.
ClickOff does not automatically work: it requires manual setup first. It lets you use keyboard shortcuts for selecting windows, which really helps streamline the process. You can watch a video by Raymond of Raymond.cc on setting up a simple filter here:
As you can see, it definitely has its uses! It can be useful for some who are constantly accepting the same prompts over and over.
Price: Free!
Version discovered: v1.89
Supported OS: Windows 95+
Download size: 337KB
VirusTotal malware scan results: 0/42
Portability: Requires installation
[via Raymond.cc]
Time Zone Converter
Need to know what time it is in some other time zone, without using that pesky thing called an internet connection? Time Zone Converter is the perfect tool for you. It supports 83 time zones, so you're sure to never need more.
Time Zone Converter is quite a simple tool, as well. You first select an input time zone and an output time zone, then input a time. After hitting convert, you'll have a nice output time, ready for usage.
Time Zone Converter is a somewhat useless tool. It feels like something I could make in an Intro to Programming class, and is also rendered a bit useless with Google and, you know, the internet. But other than that, if you really need to convert time zones, can't memorize the conversions, won't be connected to the internet, and are running a Windows computer, Time Zone Converter is for you.
Price: Free!
Version discovered:
Supported OS: Windows 
Download size: 27KB
VirusTotal malware scan results: 0/42
Portability: Portable version available!
[via Ghacks]
NoClose
Are you letting someone use your computer and don't want them to close certain windows? NoClose is just the tool for the job. It lets you disable the close button on virtually any program that uses the standard Windows controls, as seen in the screenshot at the right.
To disable the close button, just hit Ctrl+1. You can do the same to re-enable it. It'd be nice to be able to change this key, or even make it only work if the About window was open, but alas NoClose does not let you do that.
All in all, NoClose is a nice program, and it has a useful bit of functionality. Its implementation, while not terrible isn't top-notch, but it works in a bind and is portable, so you don't have to install it.
Price: Free!
Version discovered: v1.1
Supported OS: Windows unknown
Download size: 402KB
VirusTotal malware scan results: 1/41
Portability: No installation required!
[via Raymond.cc]
dotTechies: We have tested all the software listed above. However, Windows Software of the Day articles are not intended as "reviews" but rather as "heads-up" to help you discover new programs. Always use your best judgement when downloading programs, such as trying trial/free versions before purchasing shareware programs, if applicable.
Related Posts