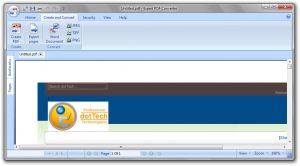 UPDATE: This freebie may only be of Expert PDF Pro's converter — not the editor. Please don't uninstall Expert PDF Pro 6 until we get this figured out.
Software Description
The following is a description of  Avanquest Expert PDF Pro, as per the developer:
Create PDF Documents

Create PDF files from any printable PC application; Word, Excel, Pictures, Photos etc.
Create several PDF files in one single operation
Merge Multiple Documents –Combine files from various applications (Word, Excel, PowerPoint etc.) into a single PDF
One-Click PDF creation from Microsoft®Office
Send PDFs automatically by e-mail

Edit PDF Documents

Text-Editing –Cut, copy, paste and edit text
Graphic-Editing –Add images, shapes & notes to your PDFs
Add watermarks, headers and footers
Insert, delete, rotate and crop PDF pages
Add interactive features such as links and bookmarks
Document Management –Use Bates Numbering to index documents with time, date, copyrights or unique coding for easy identification and file retrieval

Convert PDF Documents

PDF to Word Conversion –one-click conversion of any PDF file into a Microsoft Word document for easy editing
Save documents as popular file formats; JPG, TIF, GIF etc.

Protect your PDF Documents

Secure – Digitally Sign, and certify PDF documents
Passwords – Keep your PDF documents confidential (up to 256 bits encryption for files requiring higher security access control)
Encryption – Secure your PDF files using 256-bit RC4 or AES encryption algorithms.
Set Permissions – Control which users can read, print, edit, copy or comment your PDF files.
dotTech Advice
For quite a few years here at dotTech, we've been giving you the latest freebies, including several on Expert PDF Pro. As such, it's really gotten ingrained in our site, and we've even offered tips on getting rid of some of its annoyances over the years. It's definitely a nice program, and in version seven Avanquest gave it a nice overhaul, with a Windows 7 ribbon interface and all. (That may or may not be a pro.) It's definitely worth snagging, if not for now, for future use, especially if you use a lot of PDFs.
Freebie Details
Avanquest Expert PDF 7 is being give away by Avanquest directly.
Here's some information about the giveaway:
Version being given away: v7.0.1800

Free updates: unknown, probably none
Free technical support: unknown, probably none

Supported OS: Windows 2000+
Download size: 29.8MB – 0/40
First, download and install Avanquest ExpertPDF Pro v7. Then, visit the registration page. You'll need to enter an email address and get automatically subscribed to a mailing list, so you might want to use a service like Mailinator. The page is in German, so if you don't use a browser with auto-translate, you can use the page below as a guide: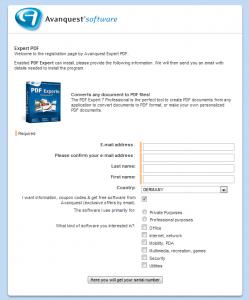 In your email, click the "klicken Sie bitte hier" button to get your code: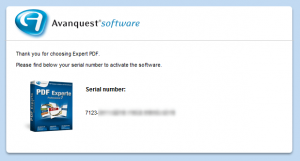 Once you've got the code, just open Expert PDF Pro and click the Register Full Version button:

paste it into the registration field…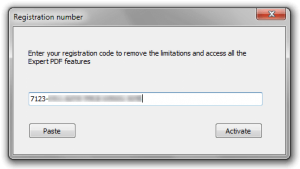 … hit register, and you're done!
If you have trouble getting Avanquest Expert PDF Pro for free, post below and I other dotTechies or I will try to help.
 [via Techno360.in]
Related Posts