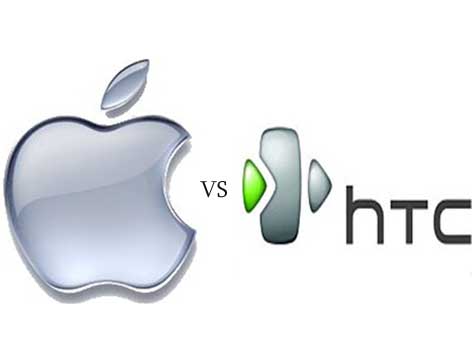 Apple is a name that has been in the headlines for quite some time now, with Apple seemingly trying to sue all the possible Android manufacturers. "Apple vs HTC" had recently seen a US court blocking HTC from using the patents assigned to it by Google.
The latest development in the fight between the two smartphone manufacturers has Apple facing a small setback in its plan for world domination, with its request to ban imports of HTC products to the US being rejected by the US International Trade Commission (ITC). ITC had earlier ordered for an inquiry on the allegation by Apple that HTC is still violating a December ruling that had asked HTC to stop infringing an Apple Inc. (AAPL) patent. The inquiry has determined HTC is not violating the December ruling.
According to Reuters, the patent in question covered a system which detected phone numbers in e-mails and placed calls automatically when the number was tapped. In this new request by Apple to bring on an emergency ban on HTC imports, it accused that HTC had 'fooled' the customs officials into thinking HTC had removed the infringing feature(s). But ITC didn't find Apple's demonstration of the infringement to be sufficient enough for an emergency ban:
"The commission finds that Apple has not demonstrated the propriety of temporary emergency action here," the Washington- based agency wrote. "The commission will not direct Customs to detain all subject HTC products because the commission does not have the information necessary to determine whether the respondents are currently violating the commission's limited exclusion order."
Even though this may be a 'win' for HTC, it really isn't a win for HTC; because you have to remember, this is a follow-up to an earlier ruling against HTC. This particular 'loss' for Apple is just a result of their arrogance. Share your thoughts in the comments below.
[via Businessweek | Image Credit: SiliconANGLE]
Related Posts