Today's Software
Subscribe to our Windows section to never miss an article: RSS Feed | E-mail
About Windows Software of the Day
Windows has hundreds of thousands of programs. Because of this great volume and lack of a central store, software discovery (aka finding new and useful programs) is extremely difficult. With our Windows Software of the Day initiative, dotTech aims to change that. Everyday we post three programs, allowing our readers to discover new software, daily. Enjoy! [Subscribe to our Windows section to never miss an article: RSS Feed | E-mail]
Developers: Click here to get your apps featured here!
dotTechies: Want to see an app on here? Send us a tip!
Software for July 6, 2012
QuickTextPaste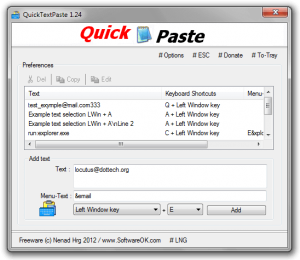 Constantly entering the same text over and over can be a drag. Why should you have to type that stuff all out manually, anyway? With QuickTextPaste, you can do away with that pain with just a keyboard shortcut.
QuickTextPaste operates on quite a simple idea: you press a keyboard shortcut, and the text you want gets pasted in. Or, if you've set multiple texts to one shortcut (say, a set of emails), you can just choose the desired text from a popup menu. It's perfectly portable, too, so if you need to use multiple computers constantly, it's just the tool for the job.
Overall, QuickTextPaste is quite useful for just about everyone! It's the perfect tool for cutting down repetitious typing.
Price: Free!
Version discovered: v1.24
Supported OS: Windows 2000+
Download size: 29KB
VirusTotal malware scan results: 0/42
Portability: No installation required!
[via Raymond.cc]
Cloud System Booster
Want to clean and optimize your system for speed? There are a multitude of available cleaners out there, but they all rely on fairly slow update cycles to release new methods of cleaning. Cloud System Booster takes a different approach to updating, instead having a separately-updatable database that lets it clean the most accurately and fully possible.
Cloud System Booster can clean many of the items that other popular cleaners do: temp files, histories, and registry entries all get machine-washed. However, Cloud System Booster also does its very best to stand out from the crowd: it includes a set of system tweaks to enable your system to run as quickly as possible.  Upgrading to Cloud System Booster Pro lets you automatically schedule cleanings and keep the database as up-to-date as possible.
On my computer, a full "boost" cycle took around 12 and a half minutes. It does the scanning and cleaning in one step, unlike other popular cleaners such as CCleaner, which is nice considering no one ever really reads those reports ever anyway. A full report is available at the end of the boost by clicking the small Details button, and it'll show you down to the individual registry entries and files what it did.
Cloud System Booster is a downright great-looking, easy-to-use program. On my tiny hard drive, its cleaner definitely helped to clear up space, but only time will tell how much it really speeds up my system.
Price: Free version available; $19.98/year Pro upgrade
Version discovered: v1.1.1 Pro
Supported OS: Windows unknown
Download size: 9.8MB
VirusTotal malware scan results: 1/42
Portability: Requires installation
GDuplicateFinder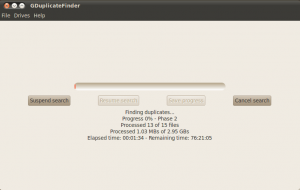 Finding duplicate files is always a fun task. My personal favorite part is when you come across two that a program thinks are the same, but since they're slightly different, you have to choose between the two.
…No, actually, finding duplicate files is a pain and that part's probably the worst. GDuplicateFinder does a little to ease any file-finding pains you may have by giving you only exact matches. It finds them quickly, too, due to its hashing-based algorithms.
GDuplicateFinder is incredibly cross system, as well. As you can see in the screenshot to the right, I'm actually running Ubuntu right now, and GDuplicateFinder is working just as well as ever. It's a really nice tool, and it's quite easy to use.
Price: Free!
Version discovered: v1.1
Supported OS: Linux/OS X/Windows XP+
Download size: 30.7MB
VirusTotal malware scan results: 0/20
Portability: No installation required!
[via AddictiveTips]
dotTechies: We have tested all the software listed above. However, Windows Software of the Day articles are not intended as "reviews" but rather as "heads-up" to help you discover new programs. Always use your best judgement when downloading programs, such as trying trial/free versions before purchasing shareware programs, if applicable.
Related Posts