Today's Apps
PCalendars (Backup and sync your iPhone calendar to the cloud)
Graffiti Me! (Take a photo and turn it into simulated graffiti art)
Tractor Trails (Take the tractor and plant things in the ground quickly)
Subscribe to our iOS section to never miss an article: RSS Feed | E-mail
About iOS Apps of the Day
iOS has over 600,000 apps. With so many apps out there, app discovery (aka finding new and useful apps) is extremely difficult. With our iOS Apps of the Day initiative, dotTech aims to change that. Everyday we post three apps, allowing our readers to discover new apps, daily. Enjoy! [Subscribe to our iOS section to never miss an article: RSS Feed | E-mail]
Developers: Click here to get your apps featured here!
dotTechies: Want to see an app on here? Send us a tip!
Apps for July 9, 2012
PCalendars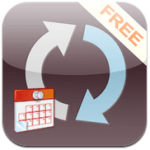 PCalendars allows you to back up your iPhone calendar to PhoneCopy.com's server so you can restore it on other mobile phones and devices. This app uses the same account as it was mentioned with the PhoneCopy app in a previous iOS Discovery App of the Day. You can back up and restore your calendar on your  iPod Touch, iPad, Symbian, Nokia, Sony Ericsson, Motorola, Samsung and LG devices so long as you have logged in to your account. You can also access your information anytime on your computer with your web browser so long as you have Windows or Mac OS X. You can synchronize anytime from anywhere free of charge by using WiFi or through your data plan since that is all you need to synchronize your data.
Version discovered: 1.7

Requires: iPhone/iPod Touch/iPad; iOS 4.0 and up

Download size: 1.1 MB

Graffiti Me!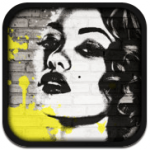 Graffiti Me! will take your photos and turn them into a graffiti like style automatically. The apps features include an easy-to-use interface where you can use your finger to move an image around the best place to putt the graffiti on the screen as well as zooming in and out with the pinch gesture, this also supports social media sites like Facebook and Twitter and you can e-mail your final product with your friends, you also get an auto paint mode where you can add adjustable paint filters to the photo, an adjustable threshold parameters where you can have extra control over how the graffiti effect turns out,  it allows you to include the 'Custom Paint' mode where you can use your finger to spray paint areas of your photo, and incluses 'Tag My Work' feature so you can tag your final product and show everyone knows it is your work. It doesn't take much to get your photo to looking like something nice you could spray paint on walls without actually doing it yourself.
Version discovered: 2.0

Requires: iPhone/iPod Touch/iPad; iOS 3.1 and up

Download size: 29.5 MB

Tractor Trails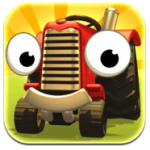 Tractor Trails is a game where you have two swipe on the screen to move the tractor to plant trees. You have to make sure that where you are swiping is the quickest and most reliable way of planting trees everywhere on the level you are on. This game includes 130 levels which includes the enormous ultimate challenge mega-maps, new environmental features in every level pack, collect corn so you can exchange for handy hints or power-ups, upgrade Red's abilities, and Game Center support for your achievements and leader boards. If you have iOS 5.0 and up you get iCloud support for keeping your progress synchronised across all of your devices.
Version discovered: 1.0.2

Requires: iPhone/iPod Touch/iPad; iOS 3.0 and up

Download size: 28.8 MB

dotTechies: We have tested all the apps listed above. However, iOS Apps of the Day articles are not intended as "reviews" but rather as "heads-up" to help you discover new apps. Always use your best judgement when downloading apps, such as trying trial/free versions before purchasing paid apps, if applicable.
Related Posts