Software Description
The following is a description of  Cloud System Booster, as per the developer:
Cloud System Booster is a new innovative system maintenance & optimization tool based on cloud technology. It's a strong all-in-one PC repair and system maintenance program with Four powerful functions:

Cleaner: Analyzing and cleaning unneeded files that slow down a PC in a fast way.
Optimizer: Optimizing items that impact PC performance to speed up computer for a better performance.
Repair: Finding and repairing PC errors in a smart way
Application Cleaner and Optimizer: Analyzing the installed applications on a PC to clean and optimize them to make PC run at a peak performance.

It's designed for both PC novices and professional users, with one-click a day for simple computer boost and typical expert mode for professional PC fix.
You can see a more complete feature list on the developer's website.
dotTech Advice
We actually just covered Cloud System Booster yesterday on Windows Software of the Day. It's a nice looking program, and is quite customizable, but it's not clear if it does anything special. It certainly has quite some potential, but I've unfortunately not used it for long enough to tell what difference it's made.
Freebie Details
Cloud System Booster is being given out by Daily Software Giveaway.
Here's some information about the giveaway:
Version being given away: v1.1.1

Free updates: none
Free technical support: none
180-day license only

Supported OS: Windows XP+
Download size: 9.7MB – 1/42
First, visit Daily Software Giveaway to give them the ad revenue to make up for this thank them. Then, you can either scroll to the bottom to download CSB, or just download it directly from them by clicking here. Once downloaded, install it first using the bundled installer and then start it up. Copy the registration key from ReadMe.txt into Cloud System Booster et voila, one Pro CSB: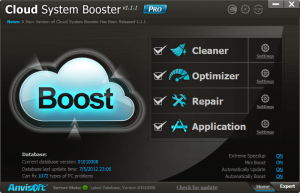 If you have trouble getting Cloud System Booster for free, post below and other dotTechies or I will try to help.
Related Posts