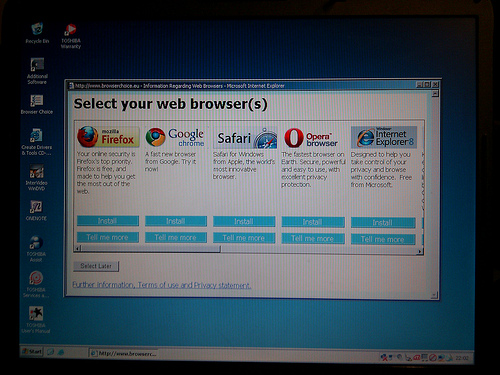 A few years ago Microsoft was under investigation by European Union's antitrust regulators for bundling Internet Explorer with Windows. According to the regulators, bundling Internet Explorer with Windows made it harder for other browsers to gain traction in Windows and thus hurt competition. In 2009 Microsoft came to a settlement with the EU that all new computers in the EU would ship with a 'browser choice' feature that allowed users to pick a browser from a list of all major browsers (ordered randomly) when first setting up Windows, thus making it equally likely for a user to select Internet Explorer as, say, Firefox or Chrome. Flash forward to 2012 and the EU is once again investigating Microsoft, for the same reasons; the EU is looking into allegations that since February 2011 Windows 7 is not prompting users with the browser selection screen.
EU's Competition Commissioner Joaquin Almunia is quoted as declaring Microsoft will face sanctions if the reports are confirmed:
"We take compliance with our decisions very seriously. And I trusted the company's reports were accurate. But it seems that was not the case, so we have immediately taken action. If infringements are confirmed, Microsoft should expect sanctions."
According to ZDNet, Microsoft could face a fine of up to 10% of its global annual revenue, a sum that comes out to about $7 billion.
Microsoft has publicly confirmed EU's suspicions of no browser selection screen on Windows 7 Service Pack 1 PCs, blaming a "a technical error" and has promised to take "immediate" steps to remedy the issue:
"Due to a technical error, we missed delivering the BCS (browser choice screen) software to PCs that came with the service pack 1 update to Windows 7. While we have taken immediate steps to remedy this problem, we deeply regret that this error occurred and we apologize for it."
Well since it was a technical error not detected for fifteen months that caused this… then I suppose it is okay. Amirite? We have a comments section for you to disagree with me.
[via Engadget, ZDNet, Reuters | Image credit: fsse8info]
Related Posts