Today's Apps
Bord (Doodle what you want on a virtual chalkboard)
Anagramma Lite (Find anagrams from other words or specific letters)
Burger Cat (Logic puzzle about having the cat find his burger)
Subscribe to dotTech to never miss an article: RSS Feed | E-mail
About iOS Apps of the Day
iOS has over 600,000 apps. With so many apps out there, app discovery (aka finding new and useful apps) is extremely difficult. With our iOS Apps of the Day initiative, dotTech aims to change that. Everyday we post three apps, allowing our readers to discover new apps, daily. Enjoy! [Subscribe to dotTech to never miss an article: RSS Feed | E-mail]
Developers: Click here to get your apps featured here!
dotTechies: Want to see an app on here? Send us a tip!
Apps for July 26, 2012
Bord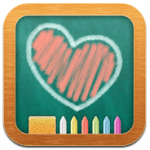 Bord is a virtual chalkboard that you can draw or doodle on without making a mess. This app can also be used if you are home schooling that you need a chalkboard for the children which is ideal if you have an iPad. This can be used for anything you want that either can be  temporarily available or keep it for your reference later. You can choose from six different chalk colors to draw on. To erase the chalkboard you can use the sponge to clean up, but it will leave residual chalk parts so this has to be used multiple times if you want to totally get rid of the parts that you drew. You can shake the device to clean the entire chalkboard rather than clean the whole screen with the sponge. If you have multiple images in some sort of animation, you can have your saved drawings loaded with the playback function in real time or with different speeds. You can also send your drawn stuff through email or through Facebook, but one of the best ways is to save it in your device's camera roll.
Version discovered: 1.1

Requires: iPhone/iPod Touch/iPad; iOS 3.0 and up

Download size: 9.1 MB

Anagramma Lite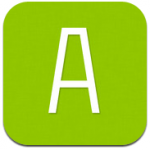 Anagramma Lite will show you what possible words can be created from other worlds or a set of random letters. This might come in handy if you get stuck on a particular word spelling game but then that would be cheating. This app supports three different languages which are English, Spanish, and Greek. This app can also be used as a spelling dictionary if you are one of those that forgets how to spell some words especially if you know how the word is spelled but forgot. The limitation in the Lite version is that it only works with word that spell up to seven characters. If you want to do eight or more characters, you can either purchase the upgrade from within the app or buy the Pro version separately. On the app's description it clearly states that if you tap and hold on an anagram you can get its definition which uses iOS built in dictionary. In all the tests done with this last thing, it didn't work or there might be something that isn't being done right. If you can figure it out please post a comment below and tell us what you found out about this function.
Version discovered: 1.4; Pro: 1.1

Requires: iPhone/iPod Touch/iPad; iOS 4.2 and up

Download size: 40 MB; Pro: 40.2 MB

Burger Cat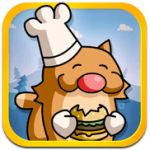 Burger Cat is a logic puzzle that you need to do certain things in order for the cat to reach his burger in order to finish the level. You will have many tools you can use in order for the cat to reach his goal by adding or taking away blocks in order for him to climb along with many other things to help him get to the end like trampolines, umbrellas, and decoys. This game consists of 85 levels, gives you the option of undoing your last move, has iCloud save game support, and you can keep track of your achievements and leader boards through Game Center.
Version discovered: 1.2

Requires: iPhone/iPod Touch/iPad; iOS 3.0 and up

Download size: 22.4 MB

dotTechies: We have tested all the apps listed above. However, iOS Apps of the Day articles are not intended as "reviews" but rather as "heads-up" to help you discover new apps. Always use your best judgement when downloading apps, such as trying trial/free versions before purchasing paid apps, if applicable.
Bord
Related Posts