Today's Apps
Subscribe to our Android section to never miss an article: RSS Feed | E-mail
About Android Apps of the Day
Android has over 450,000 apps. With so many apps out there, app discovery (aka finding new and useful apps) is extremely difficult. With our Android Apps of the Day initiative, dotTech aims to change that. Everyday we post three apps, allowing our readers to discover new apps, daily. Enjoy! [Subscribe to our Android section to never miss an article: RSS Feed | E-mail]
Developers: Click here to get your apps featured here!
dotTechies: Want to see an app on here? Send us a tip!
Apps for July 25, 2012
Download All Files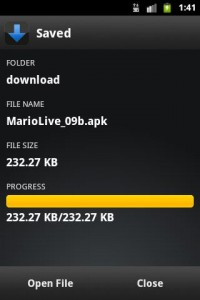 Android's default file downloading policies are quite weird. You can only save files if you have applications that can open them, and even then, the Gmail app still can't save ZIP files. If you want to be able to download files when you want, and not when your phone wants, install Download All Files.
Download All Files is quite easy to use. Once you've installed it, you'll notice that the Gmail app will let you "preview" any file (except for those pesky ZIP files). Tap on this to open Download All Files, where you can then download the file to a directory of your choosing. Or, if you're downloading something from the browser, tap it after it's finished to save it to a particular location.
Download All Files is by no means a complex program, but it helps fulfill the potential of your phone as a supercomputer and helps remove artificially-placed download limits.
Price: Free!

Version discovered: v1.94
Requires: Android 2.1+
Download size: 451KB
Download All Files on Play Store
Briker 2 Free
Looking for another small game to play on your endless commute? Please don't if you drive to work. However, if you take public transit, Briker 2 might be for you. It's all about a brick of ice who needs to escape by reaching the golden plate.
To move the brick, you just flip it. It can be rolled both horizontally and vertically, and you need to navigate your way around a complex maze of blocks to reach the end. As the levels progress, special blocks are introduced: there are ones that can only hold half of your weight, ones that can only be used once, ones that push you away, and even ones that teleport you.
The free version only holds 20 levels, unfortunately. If you get bored playing those 20, you can always upgrade to the non-free version for 99 cents.  It's a fun game to play, and as far as free to try games go, it can last you quite a while.
Price: Free with $0.99 non-free version

Version discovered: v1.0.3
Requires: Android 2.2+
Download size: 7.9MB
Fine Volume Control v2
Volume 5 is too quiet, but volume 6 is too loud. What should you do?! Panic and run and scream! Download Fine Volume Control, that's what. This free program lets you fine-tune your volume settings to both lower and more accurate than your system's default abilities.
For most devices, there are 15 different media volume levels. Fine Volume Control adds 85 levels to that, for a grand total of 100 levels. Some of these levels are even lower than previously-accessible levels, though this may depend on your device.
The way FVC works is by adding an overlay to your normal volume control box so that the fine controls pop up whenever you adjust your volume level with your hardware buttons. This means you're never without fine controls, whether you're watching a YouTube video or listening to a podcast.
Fine Volume Control is a great program if you're one who constantly tries to adjust his volume to the middle ground, but if you're otherwise not one to try to fiddle with these things, it may just prove useless to you. However, with a 7 day free trial, there's nothing to lose!
Price: $2.50, free 7-day trial

Version discovered: v2.1.2
Requires: Android 2.1+
Download size: 1.7MB
Fine Volume Control on Play Store
dotTechies: We have tested all the apps listed above. However, Android Apps of the Day articles are not intended as "reviews" but rather as "heads-up" to help you discover new apps. Always use your best judgement when downloading apps, such as trying trial/free versions before purchasing paid apps, if applicable.
Related Posts