Today's Software
Subscribe to our Windows section to never miss an article: RSS Feed | E-mail
About Windows Software of the Day
Windows has hundreds of thousands of programs. Because of this great volume and lack of a central store, software discovery (aka finding new and useful programs) is extremely difficult. With our Windows Software of the Day initiative, dotTech aims to change that. Everyday we post three programs, allowing our readers to discover new software, daily. Enjoy! [Subscribe to our Windows section to never miss an article: RSS Feed | E-mail]
Developers: Click here to get your apps featured here!
dotTechies: Want to see an app on here? Send us a tip!
Software for July 28, 2012
OpenPuff
We've featured several steganography programs here before, but they're all pretty wimpy when it comes to encryption. Looking for a truly powerful steganography program? OpenPuff is that program.
When you first open OpenPuff, you'll notice what's different. It starts off by seeding itself with a random, hardware-generated seed for already better security. From the home screen, you can then choose to either mark an image, or just hide files inside each other.
Hiding files with steganography requires three different passwords to be typed in. This is way better encryption than any of the other programs we've featured.
Overall, OpenPuff is an incredibly secure steganography program, and it's definitely top of the line. If you're looking for a way to securely hide files, OpenPuff is the tool for the job.
Price: Free!
Version discovered: v4.00
Supported OS: Windows unknown
Download size: 5.2MB
VirusTotal malware scan results: 0/41
Portability: No installation required!
[via How-To Geek]
Free Viewer
Looking for a program to view every filetype known to mankind? Free Viewer isn't exactly that, but it'll certainly get you close. It supports 95 different filetypes, virtually guaranteeing whatever you need is on the list. It also allows for basic editing.
Of course, Free Viewer isn't perfect. It's a simplistic program designed to let you view your files quickly, rather than having to wait for large program suites to open up, and its very basic editing speaks to that. You're going to want to use the original program if you want to do anything at all complicated when using Free Viewer.
Part of that simplicity allows Free Viewer to offer a very easy to use Ribbon-style interface. Despite all the hate for Ribbons, they're really quite logically designed, bundling related tasks together and revealing lesser-known useful features.
Overall, Free Viewer is a nice program if you need to open a large amount of files all at once.
Price: Free!
Version Discovered: v1.0
Supported OS: Windows unknown
Download size: 30.2MB
VirusTotal malware scan results: 1/41
Portability: Requires installation
[via AddictiveTips]
StartupSelector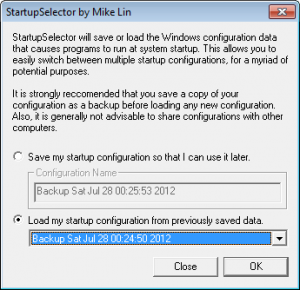 Everyone uses their computer for multiple tasks, but that often involves having different applications open at one time. With StartupSelector, you can actually back up and create various startup "profiles" to ease the application starting.
Say you have to open Outlook and Internet Explorer for work, but don't want either of them when you're just browsing. With StartupSelector, you can modify your startup using MSConfig so it only has Outlook and Internet Explorer, save it as "Work" using StartupSelector, and reset it to how you like it for general browsing. Then save that.
When you want to work, you can just open StartupSelector, select Work, and restart your computer. It gives you a chance to go grab a cup of coffee, as well, so there's really no losing! You can switch back by selecting Browsing and restarting again.
Using StartupSelector to manage your applications provides clean, easy to see borders between various computer tasks. It's perfect if you use one computer for multiple things, and is entirely free to use.
Price: Free!
Version Discovered: v1.0
Supported OS: Windows unknown
Download size: 52KB
VirusTotal malware scan results: 0/43
Portability: Requires installation
[via MakeUseOf]
dotTechies: We have tested all the software listed above. However, Windows Software of the Day articles are not intended as "reviews" but rather as "heads-up" to help you discover new programs. Always use your best judgement when downloading programs, such as trying trial/free versions before purchasing shareware programs, if applicable.
Related Posts