Today's Software
FlicFlac: a powerful media converter
StrokePlus: add mouse-based gestures to your computer
Songbird: an iTunes replacement for those without iPhones/iPads/iPods
Subscribe to dotTech to never miss an article: RSS Feed | E-mail
About Windows Software of the Day
Windows has hundreds of thousands of programs. Because of this great volume and lack of a central store, software discovery (aka finding new and useful programs) is extremely difficult. With our Windows Software of the Day initiative, dotTech aims to change that. Everyday we post three programs, allowing our readers to discover new software, daily. Enjoy! [Subscribe to dotTech to never miss an article: RSS Feed | E-mail]
Developers: Click here to get your apps featured here!
dotTechies: Want to see an app on here? Send us a tip!
Software for August 2, 2012
FlicFlac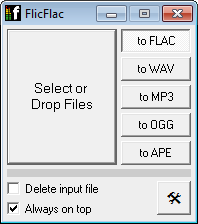 Looking for a way to convert your pesky WAV files to more manageable FLACs or MP3s? FlicFlac is a free, open-source audio conversion program for Windows.
FlicFlac is quite easy to use. Select an output format, drag some files on, and go! The bar at the bottom will start flashing back and forth until it's completed, and when it's done, you'll have a new file next to your input. Like magic, FlicFlac has converted your WAV into an MP3!
If you're looking for format support, FlicFlac is surprisingly robust in that category for an AutoHotkey program. It supports FLAC, WAV, MP3, OGG, APE, and even MP3 to MP3.
To configure MP3 support, right click anywhere on the interface and mouse over MP3 presets. You can select from a variety of bitrates, including variable bitrates and a custom bitrate option. You can also add Windows Explorer integration, allowing you to simply right click on a media file and select Convert with FlicFlac.
FlickFlac is an all-around great media conversion program and is definitely easy to use.
Price: Free!
Version discovered: v1.01
Supported OS: Windows unknown
Download size: 897KB
VirusTotal malware scan results: 0/41
Portability: No installation required!
[via Freeware Genius]
StrokePlus
If you're used to using a modern smartphone, you know exactly how to use gestures. Swipe up to scroll down! Pinch to zoom! Tap and drag! Unfortunately, you can't get these gestures on your computer. With StrokePlus, however, you can get quite close.
Using StrokePlus is quite simple. By default, you just hold the right mouse button and draw a given shape. Gestures can be application dependent, too, so drawing N in Chrome could open a new window while drawing it in Firefox could do something entirely different.
Adding your own gestures is fairly easy as well. You just choose if it's global or application dependent, and then draw the shape. Adding the actions to the new gestures can be a bit confusing, as it's actually basic scripting, but it's easy enough to grasp the basics by copying and pasting similar gesture's code and editing it slightly.
StrokePlus is overall a very nice program, and while picking it up can be difficult, it's quite rewarding in how much time it can save in your average day. If you want to add gestures to your daily routine, StrokePlus is the program for you.
Price: Free!
Version Discovered: v2.2.6
Supported OS: Windows XP SP2+
Download size: ~1.4MB
VirusTotal malware scan results: 0/41
Portability: Portable version available!
[via Raymond.cc]
Songbird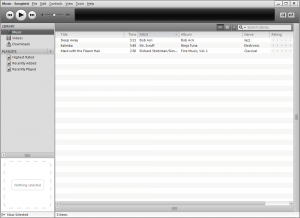 Here's a list of a few popular media players, and some of their shortcomings:
WinAmp: missing some codecs, 90s interface
iTunes: it's iTunes. Slow, bloated, and generally horrid
VLC: not a media organizer, just player
If only there were some sort of media player out there with a modern, sleek interface that wasn't the speed of a pile of dead snails. There is: meet Songbird. This future-facing media player has several future-ready tricks waiting up its sleeve.
When you first set Songbird up, it'll ask you about which add-ons you want to have installed. It comes with CD ripping add-ons, media player add-ons, and various codec add-ons. You can also add more add-ons from their online website, accessible from the Options menu.
One of the most surprising parts about Songbird is its built-in web browser. Based off of the Firefox engine, it's quite fast, and lets you listen to web radio sources you'd otherwise not get to listen to. It also lets you browse and listen to music without having to clutter up your computer with both a running browser and a running music player.
Songbird is pretty much the most customizable music player out there. No other browser is designed with the web in mind quite as much, and Songbird is almost infinitely extensible. If you're looking for a new media player, Songbird is one of the best available.
Price: Free!
Version Discovered: v2.0.0
Supported OS: Windows; OS X
Download size: 17.2MB
VirusTotal malware scan results: 1/29
Portability: Requires installation
[via Windows.Appstorm]
dotTechies: We have tested all the software listed above. However, Windows Software of the Day articles are not intended as "reviews" but rather as "heads-up" to help you discover new programs. Always use your best judgement when downloading programs, such as trying trial/free versions before purchasing shareware programs, if applicable.
Related Posts